It is no longer new that anyone with a mobile phone can conveniently create custom deepfake content such as videos, images, and animations within 5 minutes or less for only $9.99.
If you've ever loved an actor or a social media celebrity and wished you could play their roles in real movies and short videos online, then you've got to leverage deepfake technology to make your dream come true. Celebrity deepfake examples are prevalent and bring this tech better known by the audience.
With swift progress in technology, you can create custom deepfake projects using advanced mobile software and websites such as FaceMagic, DeepSwap, and so on. Let's take a look at how this is possible.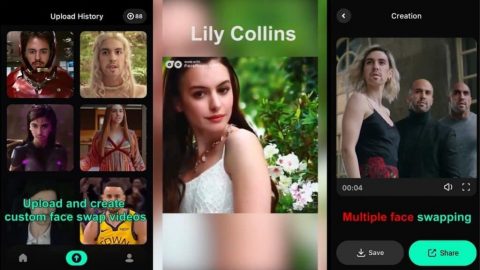 Deepfake Can Be Free, but a Custom Deepfake Will Cost a Few Bucks
Creating realistic videos of people you love, or your favorite celebrities has become very easy to do. With an Android or iPhone device, coupled with your photos or video materials, you can easily create people's faces talking and doing other things.
In the past, it used to take several weeks to create deepfake content, but as the technology keeps advancing, you can create deepfake creatives within minutes on your mobile phones. This can either be done for free or cost a few bucks depending on what you want.
There are several mobile apps programmed to create deepfake videos and photos with public resources available without you knowing how to write codes. You can create deepfake videos of your favorite movie actor or celebrity in 5 minutes or less without any technical savvy.
These applications can help to create deepfakes for free, examples are: Avatarify, Reface, FaceMagic, and many others. You can use them to create deepfakes for free with a few clicks and instructions.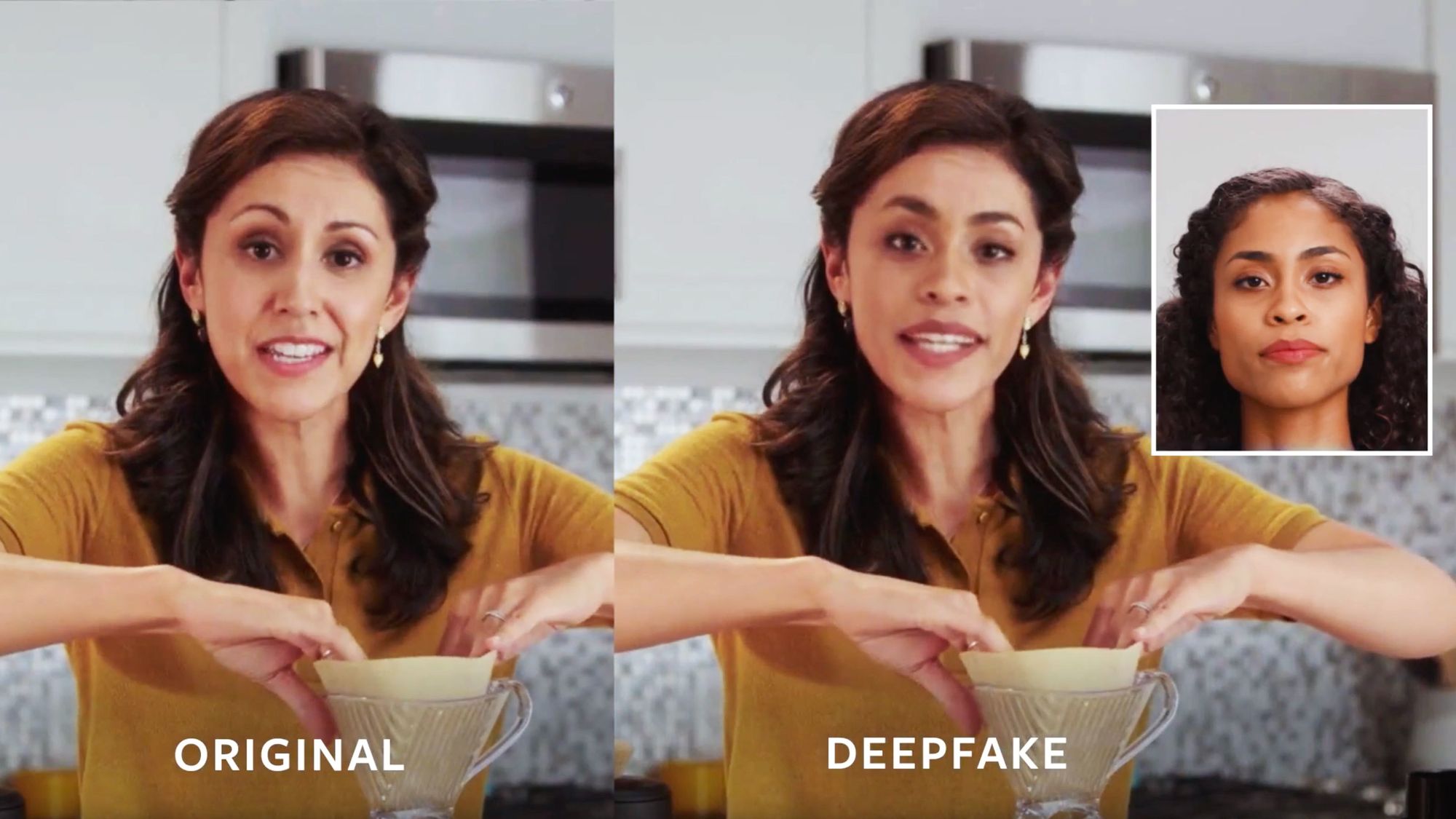 Free Deepfake Apps for Fun in 2022
Avatarify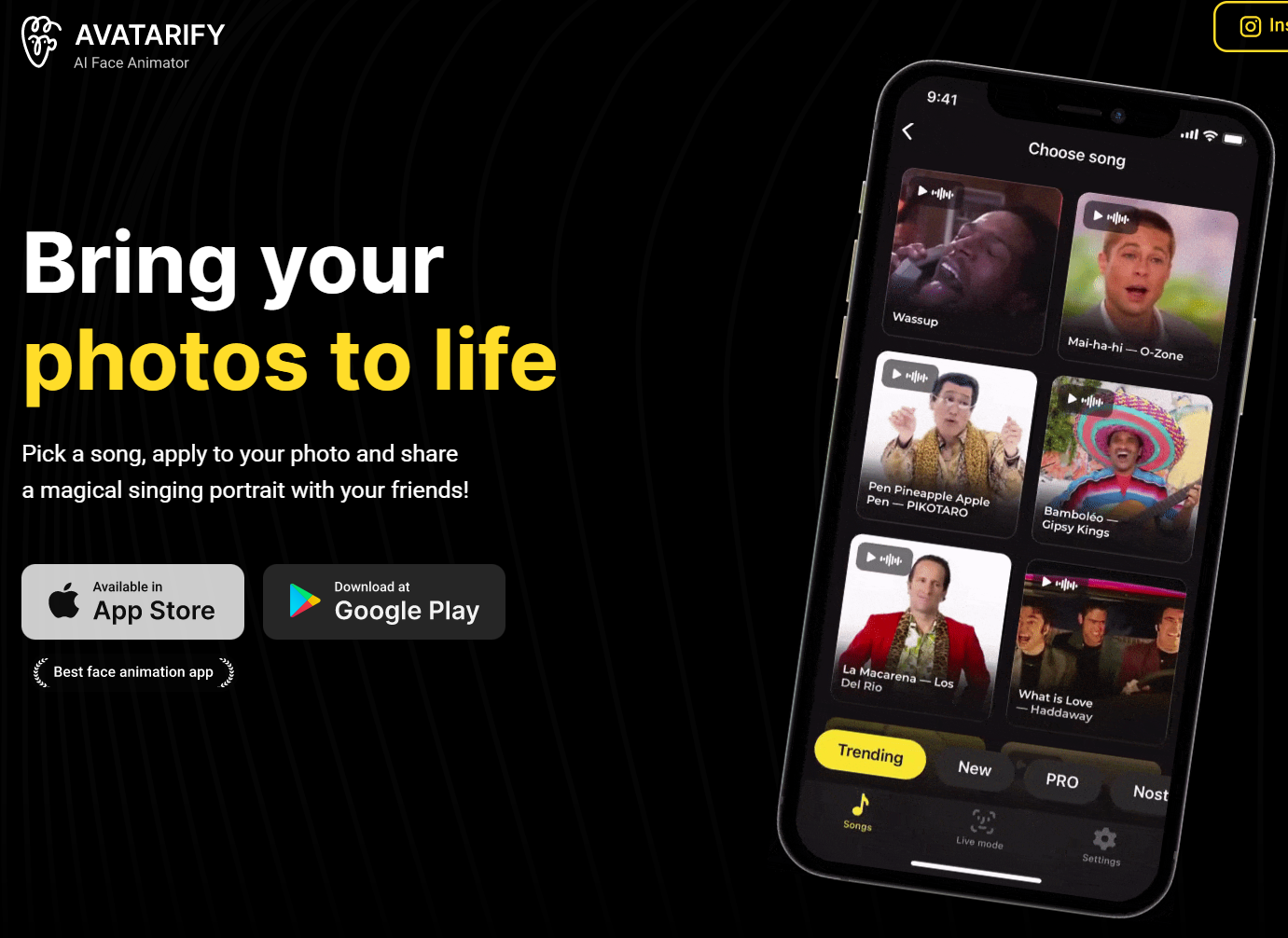 Avatarify is an iPhone app that enables you to transform another person's face into a puppet. When you put on your phone's selfie camera, whatever shapes appear on your face, show on other people's faces. However, this app only makes simple and not complicated deepfake videos. It has over 6 million downloads.
FaceMagic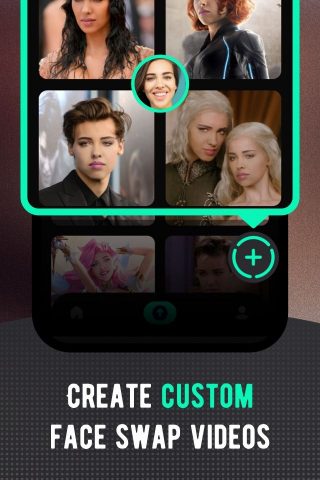 FaceMagic is another deepfake app for android smartphones. It is a free android deepfake app with over 1 million downloads on the play store. It allows you to map your face with another person's face or your favorite celebrity.
With one photo or video and little technical expertise, FaceMagic helps you to manipulate the faces of different people in videos and photos. These apps allow you to make creative deepfakes for free on your mobile devices.
Reface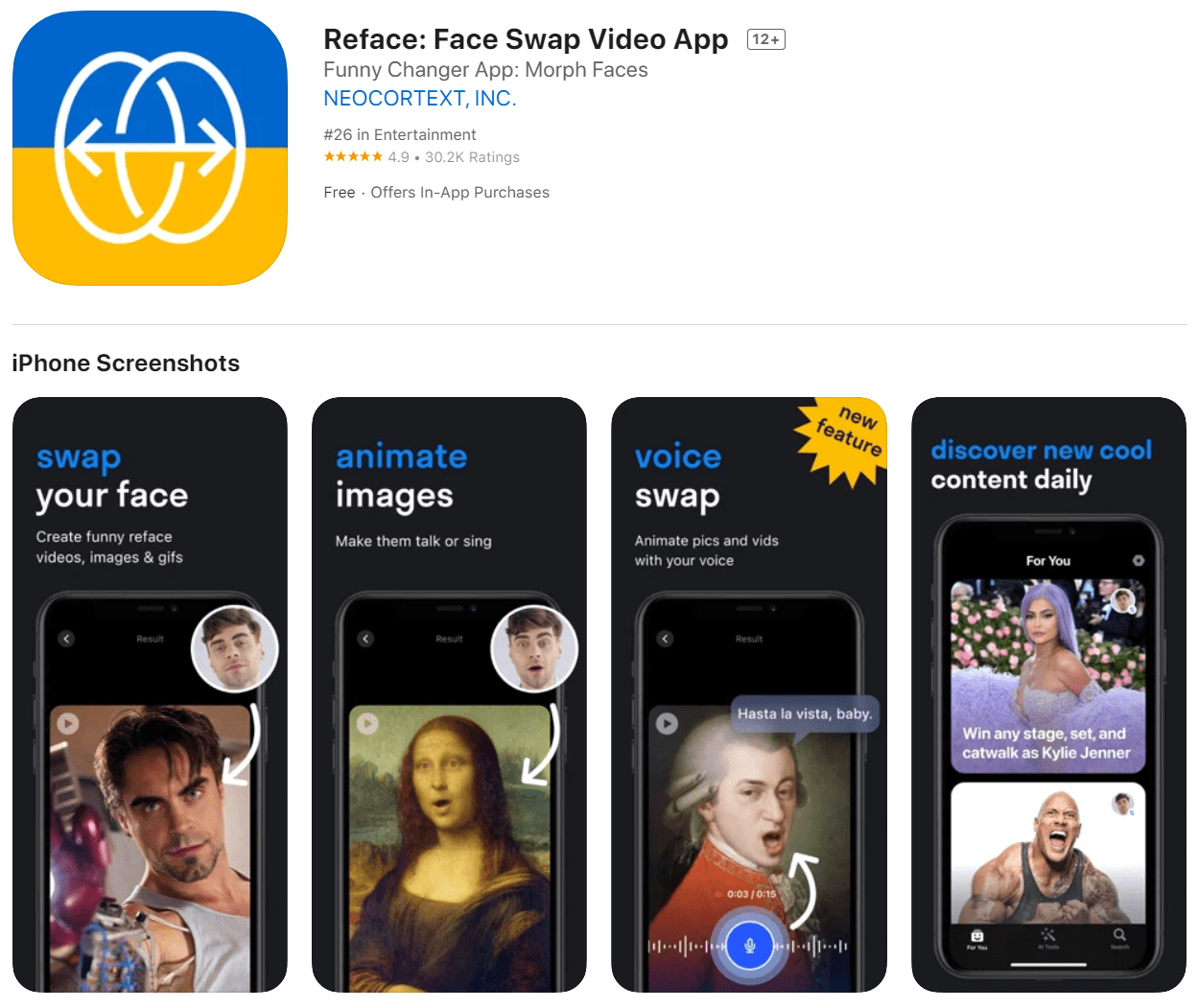 Reface also makes deepfake videos and photos by mapping people's faces on another one within a few minutes. But it can not make custom deepfake videos, all generated content comes from its in-app resources. The app works on Android and iPhone devices. It has millions of downloads on the app store and google play store respectively.
However, if you want to make a custom deepfake creative, DeepSwap is the best online deepfake web tool to help you with low cost; the cost is as low as $9.99 USD for 5 mins video, which is cheaper compared with other resources like Faceswap. Faceswap requires a powerful graphics card to generate any custom deepfake project which requires a higher cost to get.
DeepSwap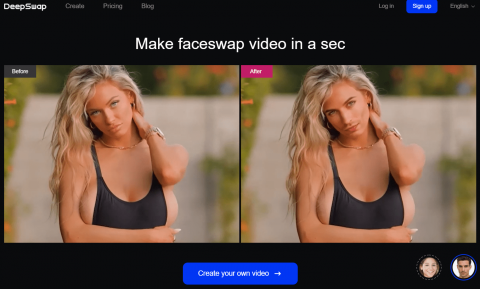 Deepswap is an online face swap application that uses artificial intelligence algorithms to generate a unique and custom deepfake creative. You'll be able to use Deepswap immediately after you complete a free registration. Choose a subscription, the subscription begins after you've completed your payment, and you can make payment via the listed payment methods.
That being said, to generate your first deepfake creative, you may choose a photo or image, GIF, or video through the Pre-sets catalog in the application, or you upload the resources from your device. You can choose between the monthly subscription or annual, each package comes with a 50% discount on the first purchase.
Deepfake Audios in Deepfake Videos
A custom deepfake voice can be generated and separated from its visuals. It could be a voice singing, talking or making important discussions. Victims' voices will be placed on somebody else's visuals to make them look real and factual.
An example of an audio deepfake is the voice of Donald Trump placed on Putin in a deepfake video. The deepfake will express the voice of the victims over another person's message, discussion, or speech. This is common among politicians and celebrities.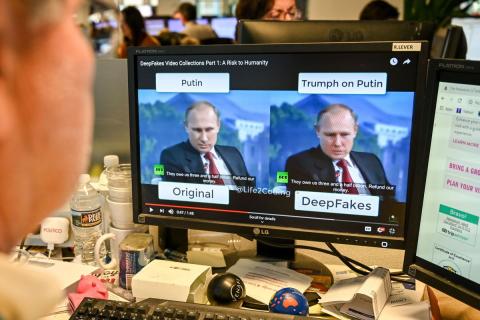 It takes less than 5 minutes to create a deepfake of this type, and the cost could be equivalent to the amount used to generate a video deepfake of the same size.
Example of Deepfake and the Cost Incurred
The cost of a custom deepfake may be as high as $1,000 or more. Depending on the application and how sophisticated the creative may be, the pricing will definitely equate to the uniqueness and purpose or intent.
Arts Technical fashion Deepfake
One example is Arts Technical fashion, which designed a deepfake spending a total of $552 in weeks with a preliminary quantity of  $1,000 on securing a deepfake application software and cloud computing.
DeepSwap.ai Online Web Tool
The best, cheapest, and easiest approach to a custom deepfake is using DeepSwap. It is an online web tool that has generated thousands of deepfake projects and users enjoy its flexibility.
The web application comes with cheap packages to make custom deepfake projects easy and cost-effective. A custom deepfake video of about 4-5 minutes costs less than $10 and the quality is 100%. The platform takes quality more than cost with a limited processing timeframe.
DeepSwap is a major contributing factor to consider when creating a custom deepfake video. The reason is that it offers free access to premium features and processing tools with reduced cost to create sophisticated deepfake creatives.
Web β Deepfake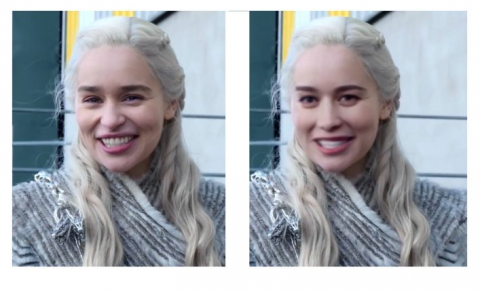 Web β deepfake of Brie Larson is another example of a deepfake that cost $15 to create. However, the quality was low. But to create a high resolution, you must pay about $60 which may take several hours to generate.
Web β deepfake is an online web service for creating deepfake projects. This web tool uses deep learning to absorb all the complex sections of face data and transform them into a new and unique identity. It usually takes up to 4 hours to detect the facial data and an extra 30-40 minutes to swap the faces before generating unique deepfake content.
Deepfake Project via Freelancers
Having a professional create a custom deepfake may attract more cost. Freelancers may charge between $500 to $5,000 to generate a custom deepfake video of 20 to 30 seconds. The cost will determine the video quality.
You can get these freelancers on online marketplaces like Fiverr, Upwork, legiit, and so on if you can afford their cost. Sometimes, It is always a matter of luck to get a professional to deliver awesome service, even with the cost being very steep.
However, website tools like DeepSwap will conveniently create custom deepfake videos, audio, or photos for you at a reduced cost on different subscription packages.
The New Norms
Whatever policy or steps major industries and governments take, deepfake creatives are also where personal tech meets personal ethics.
Your intention about taking or posting a photo of someone else may pose no harm, but creating a deepfake of them is an entirely different thing. You're simply changing other people into a puppet.
Wombo said, "Deepfakes play with identity and agency because you can take over someone else — you can make them do something that they've never done before,".
People use deepfake apps to make videos to surprise their loved ones. The most important thing is where those videos are sent to.
Susarla said, "If someone in my family wants to take my childhood picture and make this video, then I would be comfortable with it in the context of a family event,". "But if that person is showing it outside an immediate family circle, that would make it look life-threatening."
The new norm is that there is a lot of information on the internet, and most of the things we see are not real nor true but the intent behind those things, especially deepfakes is not harmful, but the abuse is inevitable.
Conclusion
A custom deepfake video may cost as high as $5,000 or more, depending on the duration; that's the size of the video. Other factors may be quality and sophistication which require thorough development and expertise.
The cost usually determines the output or the result when it comes to how a custom deepfake is generated. Other factors could be technical know-how, access to advanced tools, and guiding policies.
However, on DeepSwap a 5 minutes custom deepfake video could cost as low as $9.99. While a longer video may attract a higher cost. Depending on the subscription package you choose, usually monthly and annual, you can create as many projects as possible with the given credentials.
DeepSwap is one of the cheapest, and it comes with free credit for paid subscribers to create more projects. With little or zero technical know-how, you'll be able to generate highly sophisticated creatives like Tom Cruise deepfake on TikTok and more.