Have you ever imagined yourself as seen by another person? Because face-swapping allows you to reimagine it, it's no longer impossible. One of the most popular trends right now on the majority of social media sites is face swap. The filters that allow users to transform their face into someone or anything else are pretty popular. They can make their face look younger, older, or whatsoever they like by changing it into a different face.
Using AI and camera technology together is the secret to this entertaining pastime. We may even utilize a deep swap app online thanks to the never-ending advances. Select the "face" and point the camera at your face to utilize it. It is that easy.
Try these suggested deepfake apps below if you wish to enjoy the fun experience of altering your look.
Top alternatives for AI face swap app in 2022
Here are some top face-swapping apps and websites you can access online without downloading any software. Immediately let's begin with the first one:
1. DeepSwap – deepfake maker
Face swaps with virtually anyone may be created using DeepSwap.ai. The internal algorithm handles all difficult procedures. It only takes finding two pictures, uploading them, and waiting for the magic to happen. You should use DeepSwap for all your deep fake and face-swapping needs! 
Design-wise, "DeepSwap.ai is an AI face-swapping website. You may instantly add your face or the faces of your friends to any video, photo, or GIF ". To start the magic, submit a photo of yourself or a friend and select or upload any character you want to play.
DeepSwap allows video editing that redefines any content even after it has been created. Character and video alterations are virtually limitless using it.
Pros:
To start, it might result in a lower cost of video campaigns.
Additionally, it can help with better digital marketing.
Thirdly, it might provide a highly tailored experience for the customer.
Cons:
Sadly, deepfakes have occasionally been used for less honorable purposes, and phony customer complaints might arise.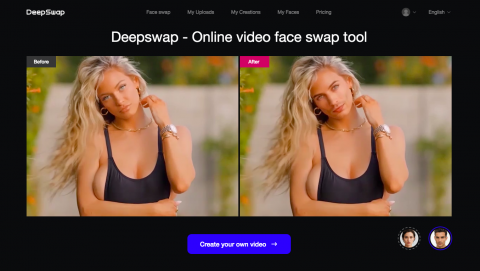 What is the price of DeepSwap?
You may purchase a license for DeepSwap for personal use for $9 per month, or you can save money by signing up for the whole year for just $49.99. You are only permitted to utilize 20 multi-stream channels and 100 credits per month for private usage under these licenses. Additionally, phony use PayPal and any debit or credit card to pay for your expenses.
With this, you can switch for a minute at 720 pixels per second for one credit. There are also 50 faces available for choosing as a switched face, and you can broadcast your live stream on one of two channels. Here is a link where you may view the price schedule for DeepSwap.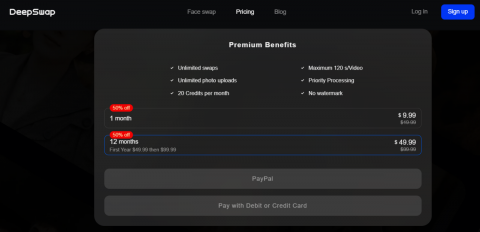 2. Face Swapper – deepfake app
This face swap website uses artificial intelligence (AI) to identify faces in images and replace them with any of your choosing. This image can be one of a celebrity or another person. 
Face Swapper ensures user security, keeping your images private and secure. This website has an image history that can be freely cleared at any moment. If you clear it, all your saved images from the website will be erased, and no trace will remain.
Pros:
Simple to Use
Convenient
Ensures Safety
Cons:
The UI could be better.
Does a positive user experience not matter?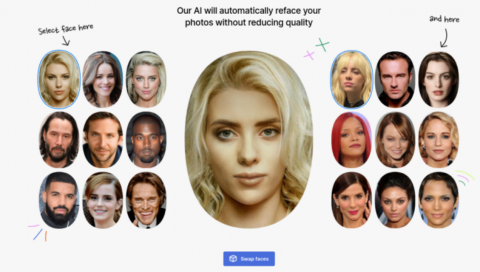 3. PhotoFunia – Face swap app
On the list is the following Face Swap by PhotoFunia. A long list of settings or available options will be displayed when you initially access the website page. There are unique themes for Christmas, Halloween, Easter, and other holidays.
The direct upload button for photos is on a rather straightforward website. Particularly for new users, it is quite simple to use and contains many settings. However, as you can see in the image, the adverts might occasionally be inconvenient.
Pros:
The software is simple to use.
There are numerous options.
Cons:
The layout could be more logical.
Ads can occasionally be bothersome.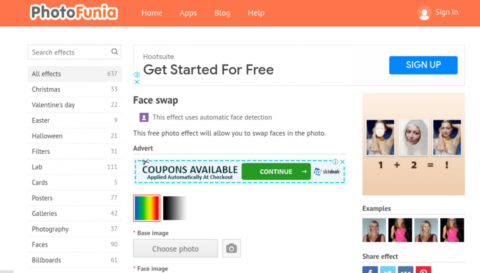 With its simple process, this platform will transform your face, just as the name suggests. You can effortlessly change your face into someone else with only a few clicks using this internet tool.
Before using the website's other attractive features, like image editing, filters, and stickers, you must first upload an image. In essence, turning your visage into a meme doesn't take long.
The website's built-in cropping tool will allow you to modify your face. Once the face has been effectively transformed, you can embellish it with stickers or text.
Pros:
The feature of the community is enjoyable to use.
The procedure is simple enough.
Cons:
The layout is messy.
Outdated website interface.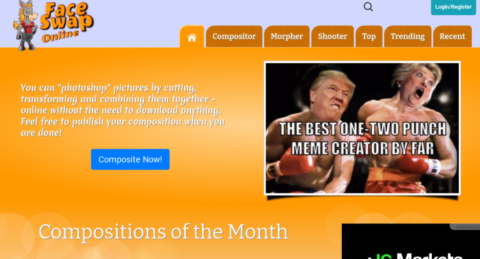 5. FaceHub
FaceHub also includes the ability to modify your face and the image-swapping option. You can choose to face swap using a photograph or a video, as you can see. Choose from either of them. The cost of the feature, starting at $5.99, is the only drawback. Their program is based on credits. You must use your Credits to pay, for instance, if you wish to swap a face.
You can pay for the Credits for a specific sum of money. However, the program asserts that utilizing AI technology can provide you with the finest outcome. They have AI that is arguably more accurate than their rivals.
Pros:
Useful features
Simple to use
Amazing AI technology
Cons:
The packages contain features that are locked.
To use the features, users must have credits.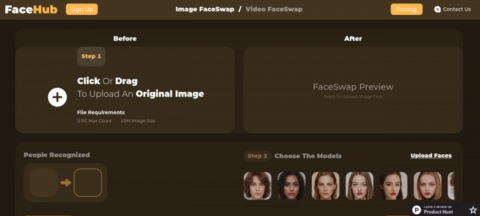 Conclusion
And that is the list of deepfake maker apps you can use in 2022. As you can see, some tools require money, while the majority do not. Therefore, you can always use the ace swap feature to express yourself creatively without worrying about purchasing anything and that is why we select DeepSwap based on simplicity, functionality, and cost.
Because of its usefulness, it is the best on the market. You may always take advantage of the many features already placed there. Since it already has a sizable fan base, you may anticipate further outstanding additions in the future that will only get better.