Face swapping which uses deepfake tools is an exciting and fun craze that has been popular since around 2017. Many of us now rely on different deepfake tools to meet our face-switching needs, but sometimes the algorithms behind the tools can not offer you the deepfake photo quality that you anticipate.
The Traditional Way to Make a Deepfake Photo
In this case, we need to take out the big gun, Photoshop, the tool people use to do face-swapping before the invention of deepfake tools.
So, do you know how to use Photoshop to swap faces? It's rather easy: open the image and pick the lasso tool to trace the edges of your face; copy the layer. Then, move that layer onto others' faces using the move tool and position it correctly. Now, all done.
Though the process is easy to perform, you don't even need to go through the process thanks to the innovation of deepfake tools.
How to Make a Deepfake Photo Now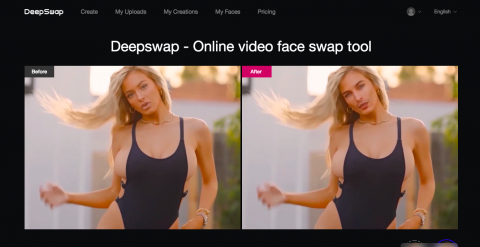 Face swapping on photos, videos, or GIFs is now known as "deepfake". Face swapping has never been so easy, thanks to an AI encoder that remodels images from any angle or through GANs used by websites. One of the best deepfake photo-creating websites is DeepSwap.ai for the reason that it has a short processing time and offers high-quality deepfake outputs.
In addition, DeepSwap being an online deepfake tool does not require any download. All things you need to start your deepfake journey are a mobile device or computer and a good internet connection.
Now I will explain all the steps needed when using DeepSwap.ai which is powered by AI.
First, open your web browser. For first-time users, the first step is to create a user ID. You only need to enter the user name, email, and passcode in the Signup form. Users that have already used this powerful tool, just need to log in.
After you create a user account, the system will send a confirmation code to your email address, and you need to verify and confirm your email address so as to complete registration.
After that, you need to subscribe to a monthly or yearly plan. The monthly subscription only cost $9.99. Then unlimited upload, free transactions, and 1 credit per 15-second video or GIF credits are at your disposal.
Next, you can create your own deepfake by following the steps listed below:
Upload an image or a video that you want to do face-swapping.
Wait for the system to detect the face.
Then click Add Face to upload the face you want to swap with.
Then click the Create button below to process the file. Wait for a few seconds, then the tool will create an excellent deepfake that is ready to be downloaded.
Download the deepfake photo and finish the whole process.
Other Equally Good Deepfake Tools
FaceMagic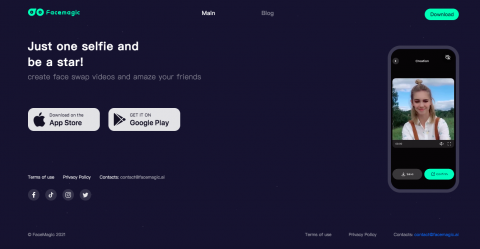 FaceMagic is an excellent utility for both Android and iOS users who like to experiment with videos and process videos of any modern format. FaceMagic is convenient and has a user-friendly interface. It's easy to use as well. You just need to upload your video to the working panel and wait for the system to do its magic.
Apart from its convenience, FaceMagic also has an excellent customer service team that is ready to solve all your doubts. Just with several taps, you can create face swap videos and amaze your friends.
FaceMagic produces convincing deepfakes regardless of being a new deepfake tool. That is why it has crossed 100,000+ downloads on Google Play Store. The premium version of FaceMagic offers exciting features and templates and allows you to upload your deepfake content.
Reface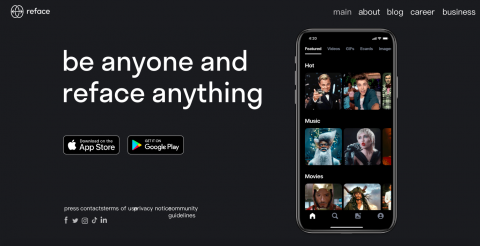 Reface is another well-known face-swapping app that allows you to change a character's face to your own in a second. With Reface, you can look at yourself in a totally different way, in new clothes and atmosphere.
You can create funny videos and send them to your friends to have a good laugh together. To do this, you only need one selfie with clear facial features. The finished deepfake photo can also be saved in video format.
By creating funny pictures using Reface, you can become the hero of your favorite movie scenes, and amaze your friends with the deepfake photos you created from the most ordinary ones. However, some users have complained about its instability in uploading files.
FaceApp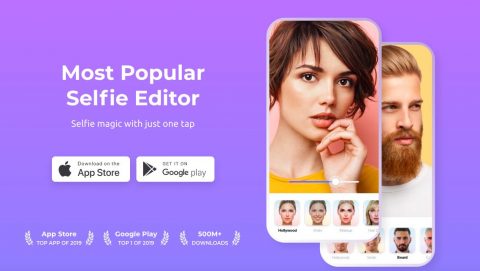 FaceApp perhaps is the most popular deepfake app. With it, you can not only bring your portrait photos to the ideal but also completely change the appearance of the depicted person. Inside, there are several classic instruments and special features. For example, you can change gender and age, haircut, and hair color, or you can add a beard, mustache, or tattoos and change the background.
FaceApp provides the opportunity to see yourself from a totally new perspective. There is such a wide range of possible changes that you can make.
It is worth noting that this is one of the few programs that does not collect unnecessary confidential information about users. That is to say, users have good privacy when using this app. The interface of FaceApp, of course, is also simple and clear.
What Can Deepfake Technology Do?
The technology that uses artificial intelligence to generate sound, images, or videos is called "deepfake", which is a combination of "deep learning" and "fake." This trick has been practiced for many years in both the entertainment industry and pornography.
For instance, Disney's The Mandalorian, a highly popular Star Wars series, used deepfake technology to de-age the actor Mark Hamill to allow him to play the younger version of the character Luke Skywalker. By doing so, film producers can lower their production costs.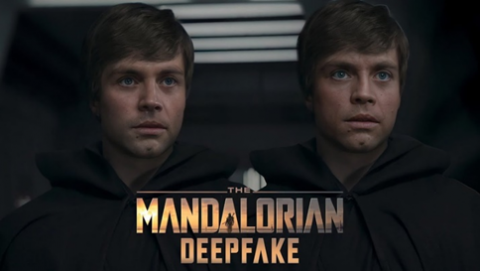 The deepfake technology can also be used for commercial purposes. Imagine you are in the cross-border e-commerce live broadcasting industry and you try to promote your sales. Wouldn't it be perfect to have a beauty advocate for your products? But commercial fees are always expensive. With deepfake technology, this will no longer be a far-to-reach dream for you can be anyone you want.
Conclusion
Generally, DeepSwap.ai is one of the best options for those who want to generate compelling deepfake photos without too much effort. It charges a reasonable fee considering its excellent work quality and short processing time. If you want to make a deepfake photo in one sec, I recommend DeepSwap.ai.