Deepfake projects are now becoming easier to create day by day due to automated software that leverages artificial intelligence to produce synthetic media. Deepswap.ai is a deepfake website tool that is used to create any type of deepswap project within a few seconds. It is the best online deepfake tool that allows users to create unlimited deepswap projects with a few simple clicks.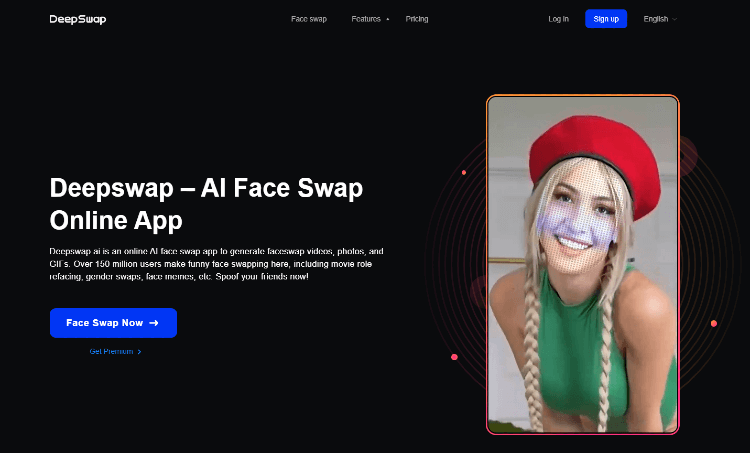 Now, let's dive into the step-by-step process of how to use Deepswap.ai.
Table Of Contents
Add a header to begin generating the table of contents
What Should You Do before the Deepfake?
Create a Deepswap Account
Setting up an account is the first and simplest step to creating a perfect deepfake project on deepswap.ai. The registration form will require you to provide your email address, username, and password. After creating your account, the system will send a verification code to your email and further require you to confirm and verify your email before the registration is completed.
Choose a Plan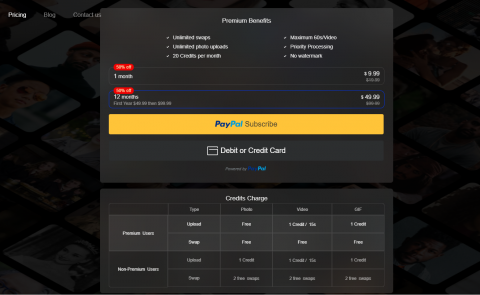 You can choose between a monthly plan or a yearly plan. The monthly plan comes with a few bucks and a 50% discount. You can enjoy unlimited uploads, free swaps, and 1 credit per 15 seconds video or GIF file. For a yearly subscription, you get a 50% discount on the first-year plan. All the premium packages are provided, including priority processing on all your files.
That being said, non-premium users only enjoy 2 free swaps and one credit per 15 seconds video, so to create unlimited swaps, ensure you select a subscription plan to enjoy better results and perfect deepfakes. Check here to view the available subscription plans: DeepSwap Subscription Plan.
3 Easy Steps to Make a Deepfake on Deepswap
To generate a perfect deepfake project using the deepswap tool, you need to prepare a frontal view face photo/ GIF/ video. Here are 3 easy steps to put a face on a body with Deepswap AI generator:
Step 1: Upload a Photo/ Video / GIF File
Open the page HERE. Click "Upload File" button and select a photo, video or GIF that you want to paste a face on. Also, you can upload a long video within 10 mins.
Recommended Size & Length:
Video: Max 100 MB, 120s
Photo: Max 10 MB
GIF: Max 15 MB
Step 2: Add a Target Face for Your File
You will see the source face(s) that Deepswap recognizes from your uploaded file on the top. Confirm the source face(s). Then, click "Add face" to upload a new image with a target face to your project, and ensure you're using a face of similar skin color. Also, you can choose a target face from the history list if you've uploaded one before.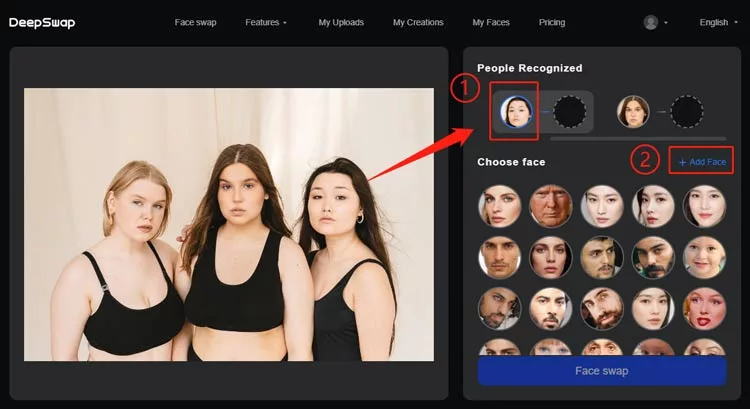 Step 3: Generate and Save the AI Deepfake Result
Confirm the target face(s). The selected new faces will appear beside the source faces. One thing to notice here is that Deepswap support at most 6 faces deepfake, so you can use faces of movie stars or someone else in your project.
Then, press the "Face swap" bottom, and the system will process the files. Deepswap will replace the source face with the target face and generate a perfect deepfake file within a few seconds.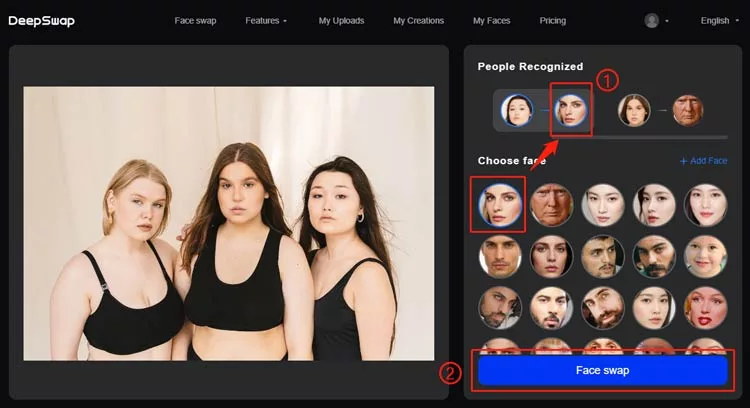 Now, you can preview the deepfake result and press "Save" button to download the deepfake file. We suggest you download the deepfake results in time because to protect users' privacy, Deepswap will remove the generated deepfakes 7 days after it generates.
Also, you can click "Upload next file" to start a new deepfake project when waiting for the result. Just leave Deepswap app conducting the rest.
Now, it is your turn to make a deepfake with Deepswap AI:
Contact Support for Any Inquiry
If you have any questions, you can reach out to the support center for any inquiry via feedback@deepswap.ai.
Conclusion
That's it. This is all about Deepswap tutorial. Deepswap.ai is the best online deepfake tool that leverages deep learning to create perfect deepswap projects within a few seconds with some simple clicks. You do not need any prior knowledge of computer programming to create a perfect deepfake project on deepswap.ai.