In recent years, artificial intelligence (AI) has become a mainstream technology, with numerous applications across virtually all industries.
One particular application that has received a lot of attention is the creation of the so-called deepfakes, synthetic media in which a person in an existing image or video is replaced by AI with someone else.
The first deepfakes were created by experts on AI, and their creation took a lot of time and effort. Since then, countless deepfake tools have emerged, allowing virtually anyone to create deepfakes with a few simple clicks, and DeepSwap is among the best of them.
Creating Deepfakes Using DeepSwap
The main goal of DeepSwap is to make the complex deepfake technology accessible to everyone, and we can say that it accomplishes this goal perfectly.
When you open DeepSwap in your web browser, you'll notice two things: First, a sample video showing what the tool is capable of. Second, a prominent "Create your own video" button that you can click to get started.
The first thing you need to do when creating your own deepfake using DeepSwap is to upload the video, image, or GIF you want to swap. You can upload videos that are up to 100 MB large and 120 seconds long, images that are up to 10 MB large, and GIFs that are no larger than 15 MB.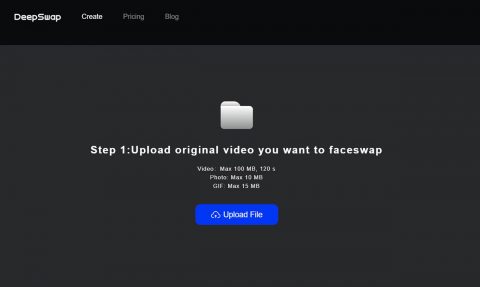 Next, you need to choose the face you want to replace the original with. There are some stock faces to play with, but what you really want to do is create your own by clicking the Create button. Don't worry: The process is very simple, and DeepSwap takes care of all the heavy lifting.
Finally, you wait for DeepSwap to apply its sophisticated AI technology to create a convincing deepfake that you can then share with others.
Can DeepSwap Produce Convincing Results?
Knowing that DeepSwap is a relatively young deepfake tool, we approached it with some reservations, not sure how convincing results it would produce.
To our surprise, DeepSwap reliably produces deepfakes that are as convincing as deepfakes created using much less user-friendly tools, and it does so within a few seconds.
Of course, you'll come across some glitches here and there, but that's the case with pretty much all deepfake tools. What's more important is that the glitches are not so severe that they would make the resulting deepfakes unusable.
How Much Does DeepSwap Cost?
DeepSwap is a paid tool, and there are two plans to choose from. At the time of writing this review, the 1-month plan was discounted from $19.99 per month to just $9.99 a month, while the 12-month plan was discounted from $99.99 a year to $49.99 a year.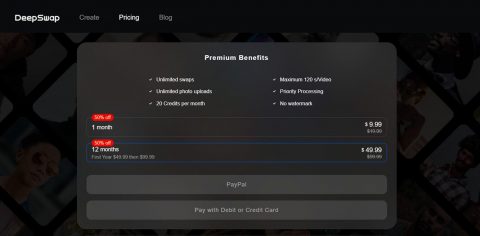 All premium users get unlimited swaps, unlimited photo uploads, priority processing, and 20 credits per month. The credits are used to upload videos and GIFs, and it costs 1 credit to upload 15 seconds of video footage or 1 entire GIF.
DeepSwap processes payments using PayPal, so you can pay with your PayPal balance or with a debit or credit card.
Verdict
Overall, DeepSwap is a great choice for anyone who wants to create convincing deepfakes with minimal effort. The price of this tool is justified by its ease of use and quality, but it's a shame that only subscription options are available. Hopefully, the creators of DeepSwap will introduce the ability to purchase a set number of credits for a fixed price in the future.