The phrase, "Hi, see my BeReal!" has been trending among social media users for the last few months now. Bereal App has sparked a lot of discussions among young people, which prompted my attention to try it out.
The emerging unfiltered social media photo-sharing app has proved to be unique and one of its kind to give you a real-time snapshot of the things your friends are up to in the middle of a random daily event.
BeReal is known for its 2 minutes real-time photo snapshot method, it is majorly concerned with giving its users more realistic and unfiltered pictures to catch up with real-time events at every moment of the day. Unlike popular social media platforms like Instagram and Snapchat, BeReal is here to offer a glimpse of reality into internet users' daily lives.
What Is Bereal App?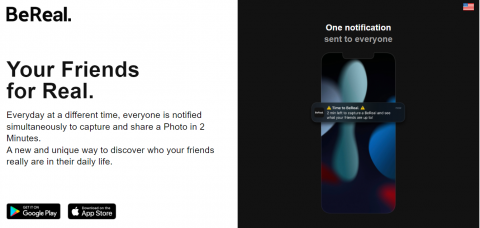 BeReal is a photo-sharing social media app created by Alexis Barreyat, a French app designer. Since the app was launched in December 2019, it has attracted millions of users all over the world.
The app enables you to discover the reality of your friends in their daily lives. It allows users to be the real version of themselves any time, any day. Social media has its benefits and social value, but the majority of the photos we see online have somehow undergone little touches for whiter teeth, colorful skin, and nicer backgrounds.
BeReal intends to make people feel comfortable with their real selves online at every moment of the day. It's a resemblance to Instagram and Snapchat, but without filters. As a user, you have the option to make your profile public or only restrict it within the circle of your friends. The discovery allows you to see what people are sharing, and you can react with an emoji.
The app is the first uncontrollable social media photo-sharing platform to share real moments with users. Users at random moments will be allowed to capture a photo of themselves within 2 minutes and post it for their friends to know what they're doing in real time. Below are some major features users engage in the app.
The Camera
The camera feature takes full control of your phone's front and back cameras to capture the things in front and your selfie simultaneously.
The Discovery
This is a section that shows all the photos and stories of your friends and people around the world using the app. It shows everything in real life without filters or editing. It makes your friends discover the reality of your life, who you really are, and your location.
Map
The map reveals the location where all your friends are and when they take their BeReal.
Comments
You can leave a comment on your friend's BeReal photos and chat with them.
The BeRealmojis
The app allows you to use emojis to react to your friend's stories.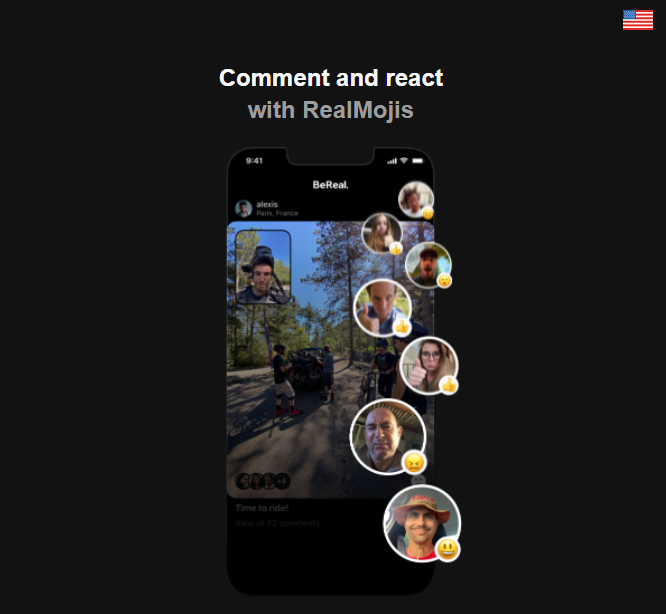 How Does It Work
When you download BeReal and complete your registration, you will receive a notification prompt to take an unfiltered photo of yourself, showing the background, and share it within 2-minutes. Each photo activity you take or engage in takes a 2-minutes time frame. BeReal notification pumps up at random moments every day, this prevents users from preparing for each photo they take.
The BeReal app prompts you to take a photo of yourself using the front and rear cameras simultaneously to capture the moment and reveals what you're doing to your friends, regardless of your engagement at the precise place and time. The essence is to make the activity authentic. You can retake the photo if you do not like the initial one you took, however, the app will notify your friends of the number of times you retake the photo.
And if your activity exceeds the 2-minute timeframe, your friends will be notified, since it may mean you've changed your environment, or you're taking time to look for a presentable background to use. The reason for this is that the app wants to create an unedited and filtered surrounding where users capture a real look at the things their friends are doing on a daily basis.
Users receive notifications at the same time on the BeReal app, but your time zone will determine when you receive yours. If you miss your post for the day, you can retake it. Your friends will receive the message when you retake a new photo. You cannot view other people's photos if you are not posting your own photo. It is an app that prevents users from looking at people's stories without sharing theirs.
BeReal allows your friends and you to react to people's BeReal photos through RealMojis. It does not allow generic emojis reactions but allows you to take a photo of yourself to capture your reaction. For example, if your friends post a photo of their baby, you can click on the RealMoji below it and take a photo of your face reacting to it. You can also use the photo of your hands showing you like their photo.
This emoji will appear below your photo or the pictures of your friends. Do not forget that if you sign up, and you don't post anything, you will not be able to see other people's posts. Users are not allowed to keep lurking and stalking without posting their stories.
Bereal App Reviews
BeReal app works on both android and iOS. Therefore, we will be sharing with you the reviews of users from both operating systems.
An iPhone user, Selahdambra said, "Really fun! I really enjoy it and the fun dynamic it brings to social media. It's a simple and unique way to connect with friends (especially my long-distance pals!) but there are two major changes that I think could overall improve the experience. I think memories should be a feature that you can select to be visible on your profile to your friends. Sometimes I want to reminisce on my friends' pages, especially if we appeared on each other's BeReal. Second, memories should keep comments and RealMojis. That being said, the app is great and I enjoy it immensely! I think with a few more adjustments, this could very quickly become my favorite form of social media…who am I kidding! It already is!"
Madeline, a female android user said, "Great concept and excited to see where it goes. The app needs some TLC. My Friends tab does not work, just loading screen. When reinstalling, the app still makes you retake a day's photo as a "first bereal" even after "logging in." Some other glitches. Would like to see compatibility with people in time zones across the world, and different times for dif people to avoid lag and make the app engaging more than once/per day. The simplicity is good, but it could use some further development. Still fun!"
Is Bereal Safe
BeReal is safe and claims to help social users discover who their friends really are. However, every data collection app tends to pose a concern. The app intends to get rid of the filtered and polished stories and information of people online to show more realistic stories every day. Unlike social apps like Instagram, TikTok, and Snapchat which support filtered and edited stories of users.
The concern of users is that BeReal could accumulate enough personal data to create a detailed profile of their daily routines. But the application's terms of use promised to keep users' data safe and not to sell to third parties. If the users' data are not properly protected, it could expose their privacy to malicious use.
Why Is It Trending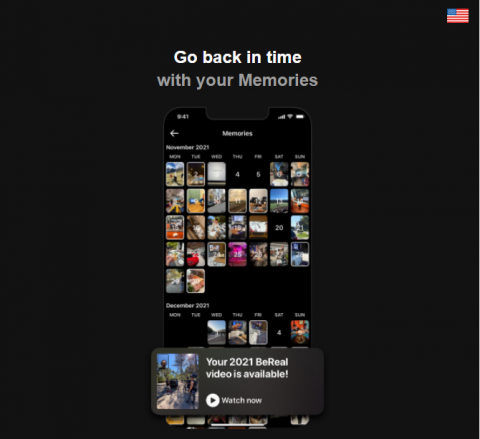 Since its launch in 2019, the BeReal app has attracted millions of users and recorded millions of downloads for both Android and iOS users. It had a strong upward trend among college students through grassroots social promotion.
The trend is also supported by its attempts to remove filtered and edited photos and stories of online users, capturing real and authentic moments. BeReal is changing the trend of how and what social media is known for by allowing real-time and genuine stories.
Conclusion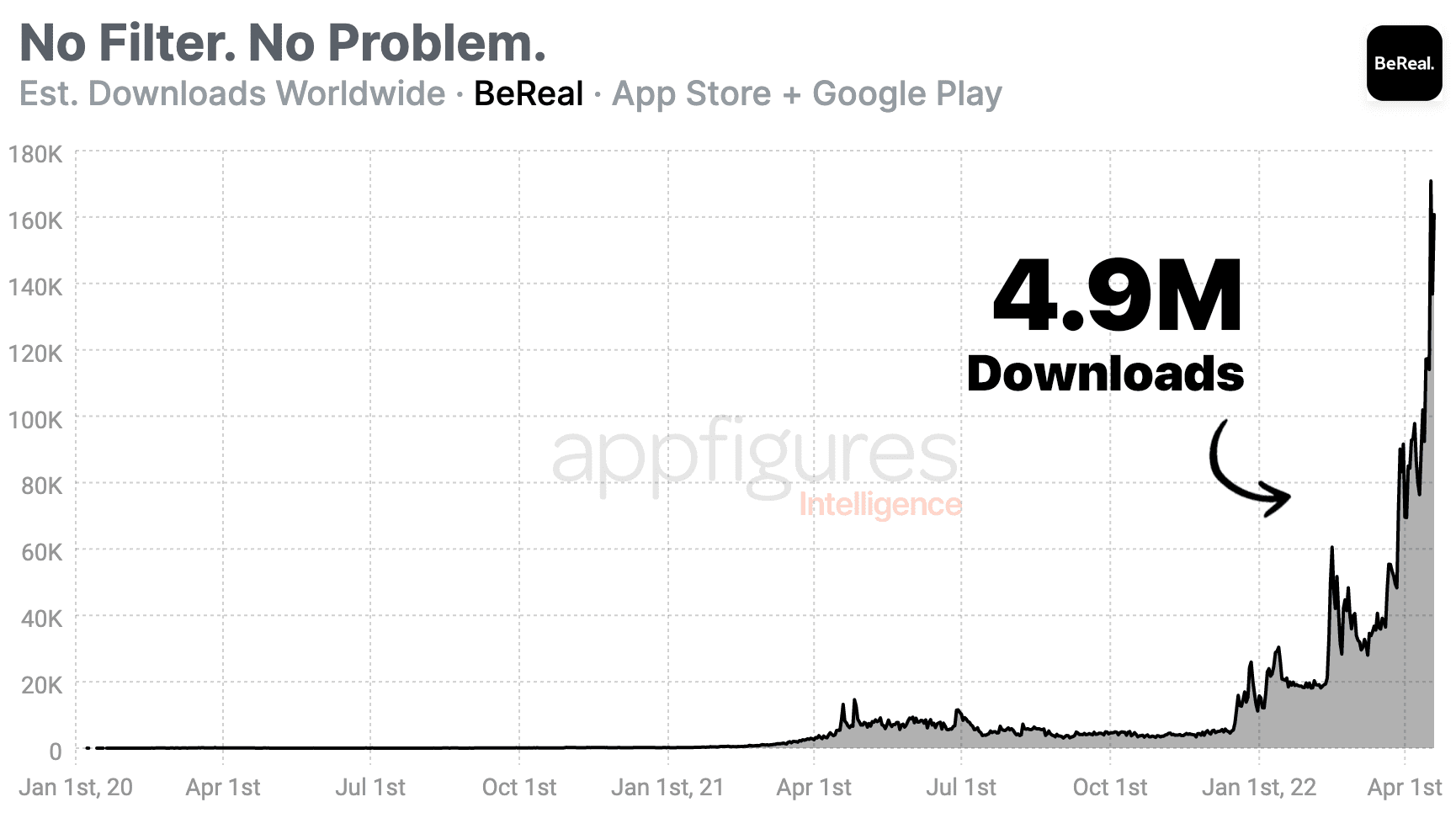 BeReal, as the name implies, "Be Real", has come to rescue social media from its fatigue of curated stories. Sometimes, being real makes you feel better and more confident. And it could be the app that will make social media users take a break from taking filtered photos on apps like Instagram, and TikTok if the aim and use pose no threat with time.