Introduction of Deepfake Generator
Deepfake generator as its name implies is a tool that can help generate deepfake which means replacing the face of a character, of a man or a woman, with that of another. At the base, there is an artificial intelligence algorithm that is able to analyze data samples with a single purpose: overlay and combine images and videos of ordinary people and celebrities to create real fakes.
Deepfakes can be made to create fun content, such as putting your face in place of an actor's face to star in a scene from your favorite movie. Simply put, deepfake is visual content manipulation that combines the latest technological advances: deep learning and AI. It is possible to animate people's faces starting from simple photos, making them say anything, lip-syncing, gender-swapping, and assuming any type of expression using deepfake technology.
Tools That Can Change Faces
DeepSwap.ai (Free)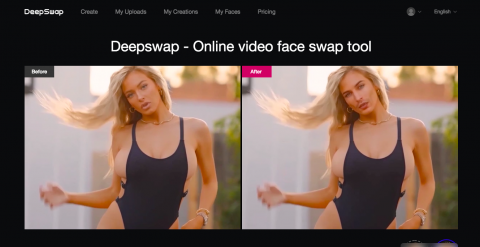 DeepSwap.ai is one of the best online web-based deepfake generators. It uses an AI machine learning-trained model to create deepfakes. This deep learning algorithm can create amazing deepfake videos of people doing things they have never done before. If you want to create reliable face-swapping videos quickly and easily, you should consider DeepSwap.ai.
It only takes three easy steps to create a deepfake video or deepfake photo with DeepSwap.ai and it only requires a few seconds to finish the creation process. DeepSwap.ai uses a robust and effective deep-learning model to improve the quality of fake videos and photos.
DeepSwap.ai can recognize and swap up to six faces in a single video, while most deepfake generators in the market can only detect one or two faces.
If you use deepfake tools other than DeepSwap.ai, your creation will have a watermark, but DeepSwap.ai never put a watermark on your project.
Pros
·        Cheaper than other deepfake tools
·        Support multiple face swaps
·        Short processing time
·        100% custom deepfake video generator
·        User-friendly interface
·        High-quality result
·        No watermark
Cons
·       Not available on Android or iOS devices.
Deepfakes web β ($3 per hour)

Deepfakes web is one of the best deepfake websites on the list that offers you deepfake video creation service without downloading any app. Just like DeepSwap.ai, Deepfakes web is also easy to use. All you need to do is to go to the official website and register an account with your email address.
Once logged in, upload the materials you need to face-swap, press Convert, and wait for some time. Then, you will have your deepfake output in high resolution. For learning and training, it takes four hours and another 30 minutes for face swapping.
Pros
·        High-quality deepfakes
·        Easy to use
·        Reuse trained model
·        Secure
·        Cloud-based system
Cons
·        No mobile app
·        Processing speed is slow
·        With watermark
FaceMagic (Free)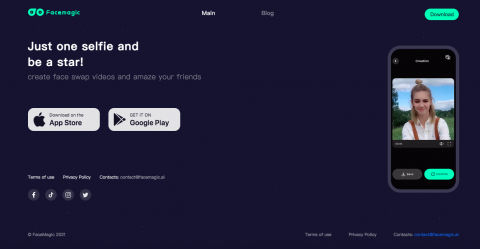 FaceMagic is another amazing face swap app on the list. It is based on technologies such as artificial intelligence and deep learning that come into play to make creations look realistic. This software allows you to use any face on photos and videos.
FaceMagic's in-app gives you prompts for face swapping, but you can also use your photos to swap faces. FaceMagic's premium membership offers unlimited image uploads, removal of watermark and annoying ads, unlimited face swaps, and priority processing. This app offers both free and premium versions on Android and iOS devices. You can simply download it from the Apple App Store or Google Play Store to begin your deepfake journey.
Pros
·        Free
·        Flexible
·        Easy to use
·        Attractive design
·        No registration required
·        Support direct sharing on social media
Cons
·        Annoying ads
·        Watermark on the free version
Reface (Free)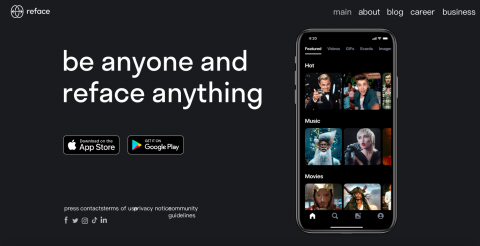 Initially known as the Doublicat app, Reface is an AI-based deepfake application with GAN behind the scenes. Reface, in fact, with superb artificial intelligence, allows you to import your image and choose the video you want to synchronize.
In a very short time, the application will superimpose the image on the GIF, and you will see your face move perfectly. If you want to experiment with this new technology and have fun doing great work, you can't fail to try it.
One of its strengths is the ability to import other animated images (GIFs) and use them as new content on your images. You can download the application on the Play Store and App Store completely free of charge. However, I would like to point out that you need to make purchases in the app to expand the functionality. If you don't have extra needs, the free basic version will do just fine too.
Pros
·        Live face swap
·        Gender swap
·       Short processing time
·        Direct sharing on social media
Cons
·        Sometimes crashes
Tutorial of DeepSwap.ai
Now, let's take DeepSwap.ai as an example to see how you can generate a realistic deepfake in several clicks.
·        Open the DeepSwap.ai website.
·        Log in to your DeepSwap account.
·        Subscribe to a monthly or annual plan, or have a free trial.
·        Upload any image, video, or GIF that you want to swap.
·        Add a face with which you want to swap.
·        Press the create button and wait a few seconds for the processing to complete.
·        Download the deepfake that you just created.
Congratulations, you have finished the whole process.
Public Concerns about Deepfake
Political Manipulation
There are already cases in which people use deepfake technology for the purpose of political manipulation.
When Donald Trump admitted defeat two months after the election, Reuters and other media posed the question: did Trump really make this speech? When zooming in, one can clearly notice that the video is blurry around the neck of the former president; the background is fake, and so is the flag.
In 2019, a video appeared on social media in which the Speaker of the US House of Representatives Nancy Pelosi looked drunk and sick, unable to connect two words in the studio. The video was first posted by Sean Brooks, 34, a sports blogger and Trump superfan from New York, according to the Daily Beast.
Tool for Cybercrime
The case of deepfake technology being misused for cybercrime has also been reported.
In 2019, the Wall Street Journal published an article that reported that using a voice deepfake, the criminal managed to convince the CEO of a British energy company to transfer $ 243,000 to the account of a Hungarian supplier. The CEO talked on the phone, as he thought, with his head, the CEO of the German parent company. But in fact, the criminal used AI speech recognition technology to deceive the interlocutor: the criminal mimicked the German accent of the boss and even his manner of communication.
Immoral Content
Deepfake technology has also been misused to create porn without people's consent, which greatly violates portrait rights.
In 2019, AI Company Deeptrace discovered 15,000 deepfake videos online. Of these, 96% were pornographic, and 99% used the faces of female celebrities. Daniel Citron, professor of law at Boston University, commented: "Deepfake technology has become a weapon against women."
Conclusion
I hope this post can help you find the best deepfake website or app. You can choose any app or site from the list to create deepfake videos, images, or GIFs according to your needs. If you want to start the deepfake journey, DeepSwap.ai is no doubt the best option for you. Thanks for the Read.