Introduction of Deep Fake Camera
A deep fake camera, as its name implies, is actually a tool powered by deepfake technology that can help make deepfake videos or photos. Deepfake is the creation of manipulated visual and audio content, or in other words, synthetic media. It is based on artificial intelligence and deep learning technology (machine learning direction), which is capable of processing large amounts of personal data.
Artificial intelligence learns how one face looks from different angles and transfers what it learns to another. This is how a synthesized fake image appears. Usually, deepfake content creators use celebrities' faces as the materials, and the generated deepfake content goes viral. A series of such deepfake Tom Cruise videos on TikTok has been viewed over 50 million times.
Tools That Can Change Faces
DeepSwap.ai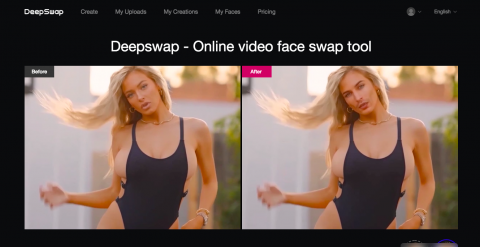 DeepSwap.ai is a fantastic deep fake website tool for face swapping without reducing the quality. It uses artificial intelligence to detect faces on videos, photos or GIFs, and replace them with other faces of your choice. DeepSwap's privacy policy is so good. DeepSwap.ai only gets your basic info, for example, your membership status and account. Your files and projects will be cloud-stored and developers have no access to them.
In addition, DeepSwap keeps your work in the cloud for only seven days, after which the creation will be automatically deleted, which greatly protects users' safety and security. DeepSwap.ai doesn't add watermarks to your creations, which is nice, since many deep fake tools always add watermarks on the outputs which annoy users.
DeepSwap.ai, based on AI machine learning technology has capable to make deepfake photos or videos look very realistic. One thing that makes DeepSwap stand out from its counterpart is that DeepSwap can swap up to six faces at the same time, while other face-swapping tools can only detect one or two faces. In the DeepSwap.ai blog, you can find all the tutorials, frequently asked questions and their solutions.
Apart from that, DeepSwap also offers excellent 24-hour customer service which can help address any question and satisfy all the needs of the users. The website interface is very user-friendly and straightforward.
So, novice users can easily understand how to use DeepSwap.ai.
As for the price, DeepSwap.ai is also more competitive than its competitors. For just $9.99 a month, you can swap unlimited photos and GIFs. If you have an annual subscription, you can enjoy the bonus for the entire year for only $49.99.
Note: DeepSwap.ai has payment options via PayPal as well as credit and debit cards, which can help users from worldwide pay smoothly. The payment options are safe and secure; therefore, you need not worry about info leakage or overload.
Deepfakes Web β

Undoubtedly, this deepfake web tool is also an amazing one. Thanks to artificial intelligence and machine learning algorithms, this tool provides good deepfake results in videos and photos. Just like DeepSwap, it is also easy to use – upload the materials needed for face-swapping and wait for the system to complete the transformation.
One of its strong points is that you can reuse your model so that it can learn and improve. According to the tool, it takes about 4 hours for a deepfake to complete from scratch. If you use old models, half an hour is enough. It's fair to say that the biggest shortcoming of Deepfakes Web β is its long processing time. In addition, it costs $2 per hour.
FaceMagic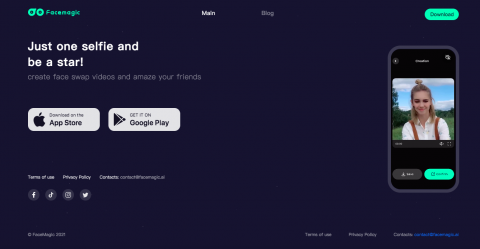 FaceMagic is one of the most popular and powerful face-changing apps in the market. Users get the opportunity to replace the face of any character in a video clip and quickly hide the traces of such interference. And the tool performs all the main multimedia actions on its own.
Thus, the user can easily make a humorous tape, an advertising clip, or a cool greeting to a relative or friend. All you need to do is to import a photo, cut out the face, outline the actor you want to replace, and wait just a few seconds until the system completes all the necessary changes and produces the final result.
You can also make adjustments, such as adding text lines and frames, experimenting with brightness and sound, and adding cool filters to the finished work with ease.
Reface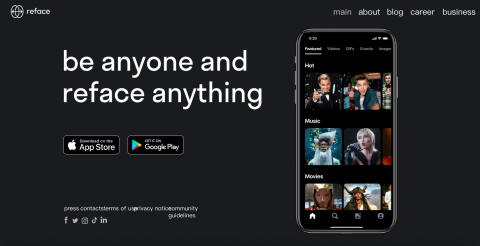 In 2019, the Ukrainian IT company Neocortext (current RefaceAI) released the Doublicat mobile app (now Reface), with which the user can replace the face on the GIFs with his own face. Reface shortly became widespread among Internet users. It is free with optional payment plans.
To create a deepfake, you need to take a selfie (a self-portrait created using your phone's camera) and then choose any of the famous GIF memes and paste your face there. You can share the final result on your favorite social media platform directly from the app. Or you can save it in video or GIF format to the memory of your mobile.
With the new face-to-video swapping feature, the popularity of the service has grown.
Currently, Reface officially has 100 million installs, and the number continues to grow in a fast manner. Its spokesperson added that content created on the app is shared by 65% of users.
FaceApp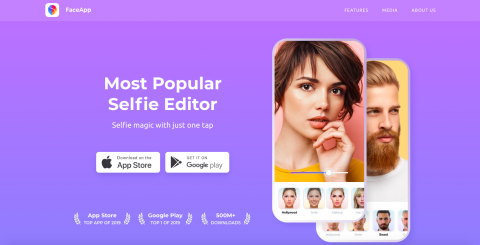 FaceApp is another widely-used face-changing app that will allow you to turn even the most ordinary selfie into a great photo with just a couple of taps on the screen. Thanks to advanced neural technologies, photo editing has become much easier than before. Now, photo editing is available not only to those who have the skills of professional photo processing in special programs but also to the most ordinary users.
Also, the application has a number of entertaining features, such as changing hairstyles, gender, skin color, and so on. With FaceApp, you can add various backgrounds to your photos from the app's extensive library, apply different filters, apply makeup to the image, and enjoy many other exciting features.
Tutorial of DeepSwap.ai
So, how can you create a deepfake? Here is a step-by-step deepfake tutorial of DeepSwap.ai, which will help you create a deepfake within seconds.
Step 1: Go to the DeepSwap.ai website.
Step 2: Register an account. If you already have a DeepSwap.ai account, then log in.
Step 3: Subscribe to an annual or monthly plan, or have a free trial.
Step 4: Now, you can upload any image, video, or GIFs that you want to swap.
Step 5: Next, you need to add a face with which you want to swap.
Step 6: Press the create button and wait for a few seconds for the processing to complete.
Step 7: Download the deepfake that was just created. Congratulations, you have finished the whole deepfake process.
Application of Deepfake Technology
Deepfake technology can have a positive impact on a person and society as a whole.
Promoting the Development of the Film Industry
In the film industry, there are also studios dubbing films for export by using the deepfake technology, swapping the lips, facial expressions, and voices of the actors speaking in another language directly onto the faces of the original film characters.
For instance, Disney's The Mandalorian, a highly popular Star Wars series, used deepfake technology to de-age the actor Mark Hamill to allow him to play the younger version of the character Luke Skywalker.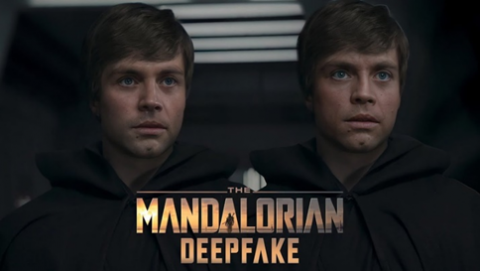 Education
Deepfake technology can be used for educational purposes as well. Who said that it is just for pranking your friends? By using this technology, great figures like Einstein that have passed away can be brought back to life so that students can learn better about the historical characters who greatly influenced this world in the past.
Art Innovation
The deepfake technology will bring about a new change and innovation in digital art. Fascinating art can be brought forward by utilizing this technology, impressing people worldwide. With this technology, people can chunk out a large number of unique masterpieces with ease.
Conclusion
To sum up, I would say that DeepSwap.ai is the best web tool for deepfakes. It allows you to swap faces from videos, photos, and GIFs in a simple and authentic way. Its interface is user-friendly, and the price is competitive. Your data and information are safe with DeepSwap, thanks to a strict privacy policy and secure cloud storage. What are you waiting for? Start your deepfake journey with DeepSwap.ai! Thanks for the Read.