Reflect Face Swap is a
deepfake application
that uses artificial intelligence to swap faces with high precision, and it is basically the first-ever realistic face-swapping app. It enhances the smoothness of the skin and the look of a photo by automatically changing the color. Reflect tech also gives you the ability to adjust the intensity of the swap. It means you can opt for a complete transformation or reduce the replacement level for a more natural look. Another feature worth mentioning is the built-in meme editor, which allows you to
create funny memes
to post on social media sites. However, sorry to announce that Reflect tech has been closed in October 2021. If you have already tried Reflect, liked it, and would like to try other similar applications, there are the top 6 alternatives to Reflect that currently exist for you.
Top 6 Reflect Face Swap Alternatives
1.Deepswap.ai – best online faceswap tool
Deepswap.ai
, powered by machine learning is an online realistic face swap web tool that allows you to create a unique deepfake project in seconds. It is one of the best
faceswap
tools that enable users to create unique high-quality AI-generated deepfake videos and photos with just a few clicks. The website currently offers a 50% discount on both monthly and yearly subscription plans. Hurry up to grab the 50% discount! Its advantages:
User-friendly interface
No watermark
Swap up to 6 faces in a clip
Create an AI avatar
Keep your privacy safe
Quick, simple, and high definition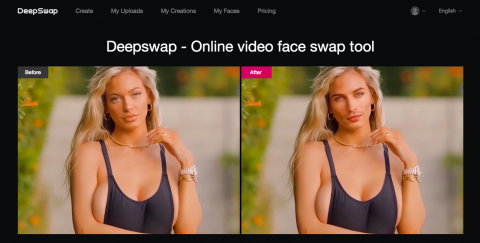 2. FaceMagic
FaceMagic is a super cool and easy-to-use application designed to swap the faces of the characters in videos, photos, and GIFs. Now, on any mobile device, you can easily create a cool deepfake by swapping faces from
the characters of your favorite movies
and TV shows, as well as preparing advertising, entertainment, and informational work. It will become a good assistant for operators and those who like to please everyone around with witty or funny tapes. The application has an intuitive interface and an extremely easy learning process. It will allow absolutely anyone to understand the app's main functions in ten minutes and start creating comical videos without training.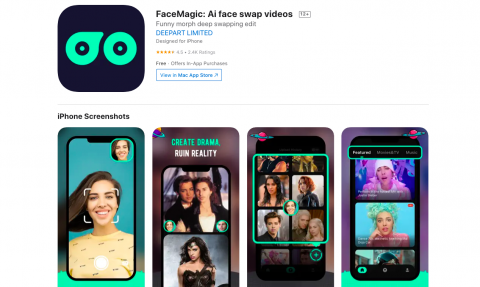 3. Reface
Reface is the next deepfake app on the list. It is also an AI-based face swap tool that allows you to
swap your face with celebrities
. Reface also has a GIF library of famous memes that you can replace your face with. You can download the files on your mobile storage or share them immediately on social networks with the Reface watermark. You can also use the Reface app to upload your own GIFs. However, this feature is not available for free, and you will have to subscribe to the paid plan to access it. Annoying ads and watermarks can be removed with membership.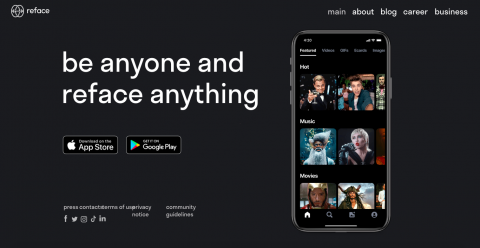 4. FaceApp
FaceApp is an app that has recently gone viral all over the internet for various reasons, not only because of the high degree of realism it achieves with photos but also because of some controversy surrounding its privacy options. It is an application developed by the Russian company Wireless Lab, and it is basically an image editing application that focuses on the face and neck. The app allows a user to modify a photo using the program's advanced AI, achieving effects that could only be achieved by Photoshop experts. FaceApp has an aging function with really realistic effects, one that has caught the attention of users.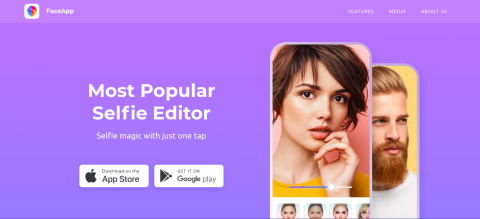 5. Faceswap.dev
Faceswap.dev is an open-source face swap program for Windows, Linux, and macOS. Faceswap.dev has a number of features, including the ability to
swap faces with any photo
, be it the photo of your buddy or a celebrity. With its powerful editing tool, you can quickly blend images together, creating new looks by combining different facial features. It already includes a large number of celebrity photos. After mixing the images, you can share the creation with your friends. You can exchange faces with friends at any time, thanks to the automatic recognition features.
6. Face Swapper
Face Swapper is only available on the web browser, and it is a creative tool that focuses on video editing, so it allows you to add moving effects. The best thing about this application is how easy it is to use and that it is not necessary to have great knowledge of editing to be able to apply its effects. Of course, it escapes a bit of what can be done with reflect tech since it does not allow faces to age or perform similar actions. However, it has a huge database of characteristics extracted from thousands of photos, which is only growing. In short, it is a fun web photo editing app that can be used to have a good time laughing with friends and family while you do a few touch-ups.
How to Make a Deepfake Using Deepswap.ai?
Here is the easy guide for your reference.
First, click on the upload file button in the middle of the screen to swap the image. The file can be a GIF, video, or photo.
Next, click add face button to add new faces and select a face with similar skin color.
Click on the create button to generate a deepfake image. The tool will generate a unique face swap image in seconds.
The last step is to save the deep fake just generated.
You can also read
a complete tutorial here
.
Summary
As you already know that the reflect face swap app has gone, here I have discussed the top 6 alternatives for you, and the best alternative is
Deepswap.ai
. I also explained the step-by-step tutorial on how to make a deepfake using Deepswap.ai. I hope you find this step-by-step tutorial useful to start your own deepfake journey.