Introduction of Deepfake Technology
Deepfake technology is an artificial intelligence algorithm for the synthesis and processing of human images, which is used to combine and superimpose photos and videos (for example, of a famous person) on other images or videos of origin (another person) in order to generate completely fake (deepfake)  photos or videos that look realistic.
The algorithms behind deep learning need a large amount of data to work well: the more images and videos of a person, the better the result. It is not a simple exchange of faces: the artificial intelligence "learns" the appearance of an original face from different angles and then transposes it on a target, as if it were a mask, combining a body with the face of another person and making it move autonomously, creating new facial expressions in real time and in sync with another audio.
Tools That Can Switch Faces in a Photo
DeepSwap.ai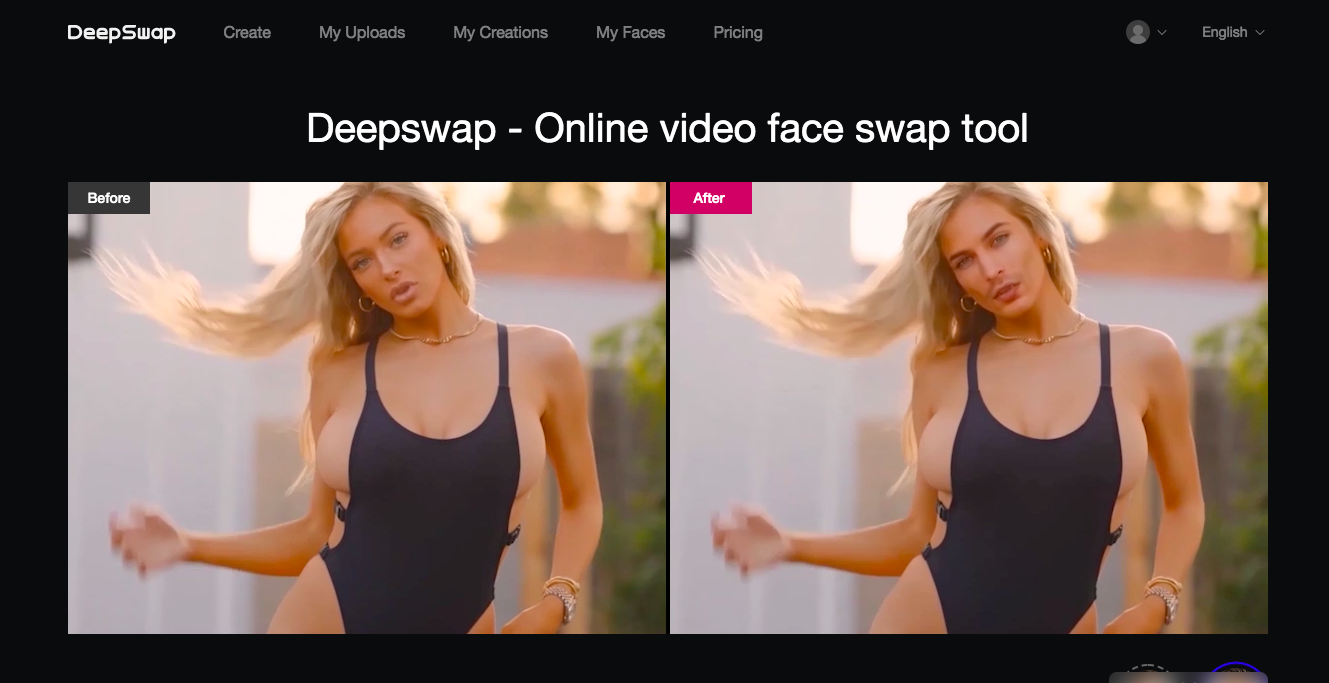 DeepSwap.ai is no doubt a powerful online video face swap tool. It can not only swap faces in videos but also in photos as well. Powered by its advanced AI system, DeepSwap can help generate realistic fake videos and photos and share your creation to social media platforms within a few simple clicks.
DeepSwap outperforms its counterparts in that it can swap up to six faces in a video or photo at the same time, while its counterparts can detect only one or two faces. Apart from that, DeepSwap is also excellent in its short processing time and high-quality outputs. Unlike some face-swapping apps that tend to crash in the upload process, DeepSwap is always stable.
What's more, DeepSwap is extremely easy to use. It has a straightforward user interface and a detailed step-by-step tutorial on its blog. Users even don't need to download anything if they choose to start their deepfake journey with DeepSwap for the reason that DeepSwap is an online tool. All users need is a mobile device or a computer and a good Internet connection!
FaceApp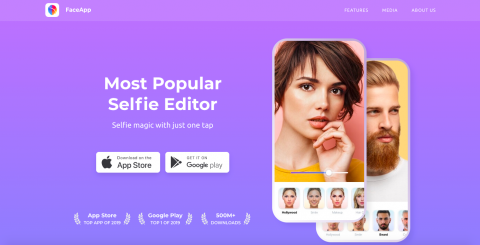 FaceApp is such a fun and easy-to-use application that even a child can figure out. The program functions thanks to neural networks. That is, the imposition of artistic effects is due to artificial intelligence, which is becoming more and more advanced these days. The main feature of FaceApp allows you to change facial expressions and switch faces in a photo.
What exactly can be done? A lot of things. For example, if a person is always too gloomy in the photos, you can attach a smile to him. Or you can see how this or that person will look at different ages.
You can also change the gender to make a male become female and vice versa. For ease of viewing, you can create collages. And using the rich functionality is quite simple. There will be no problem in studying the interface – with just a couple of clicks, your request related to photo processing is completed.
In a word, thanks to FaceApp, you can have fun switching your own photos or photos of friends.
Deepfakes Web β

Deepfake web β is a web-based tool that provides face-swapping services. It allows you to create a fun face switch video without any detailed steps. You only need to upload a photo, and the face-switching will be done by deep learning algorithms. Deepfake web β uses AI machine learning to ingest various complex facial data and creates a fun face switch in a photo.
Deepfake web β system takes time to analyze a user's face and transform it into another user's face. The free version takes almost 4 hours to learn and train and half an hour to swap faces using the trained model, while the paid version takes at least 60 minutes to generate a face swap video.
If you are an IT analyst, Deepfakes web β is a great option for you to face switch in a photo. But if you look for a short processing time, I will highly recommend DeepSwap.ai.
FaceMagic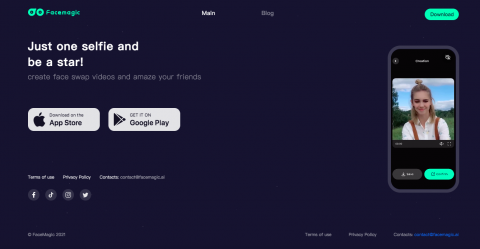 FaceMagic is a fun face swap simulator where you can transform your face into a monster, beauty, clown, or medical worker. It is a simulator for entertainment, in which many possibilities are open.
When a user uploads a photo, the system automatically detects the face. In the simulator, images of different sizes are suitable. Collective images are also allowed.
For a photo, you should immediately choose effects. It can be lightening or darkening. You can also add stars or snow to the image with ease.
Just with several simple taps, one can swap any face in a photo or video. If you can not decide which photo or video you want to face swap with, you can also visit the gallery for inspiration!
Reface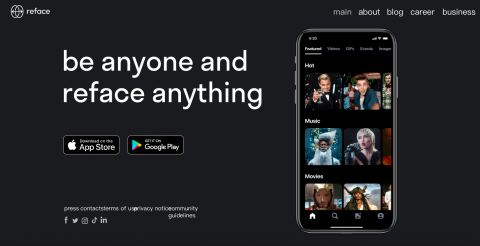 Reface is another popular face merging app for Android users. The essence of the app is clear from its name – it allows you to switch a face in a video and then hide these tricky changes as efficiently as possible so that those watching the video do not suspect the substitution.
Reface has a convenient navigation bar, a simple design, and the ability to customize the toolbar to suit users' preferences. It is indeed like what its slogan said: be anyone and reface anything. However, some users reported occasional crashes of the app during uploading.
With Reface, all you need to do is to cut out the person's face you are interested in from a photo or video, and then the program will finish the deepfake process for you.
Remember, you will have to cut out the profile and full face of the photograph so that the app can most effectively fulfill its work.
Tutorial of Face Switching in a Photo
DeepSwap.ai is the best tool to do a face switch in a photo. DeepSwap's main aim is to make sophisticated deepfake technology available to all, and it can be said that it has done an excellent job to achieve this goal.
On its official website, you will see 2 things: a video that shows what DeepSwap.ai is capable of and a "Create" button that lets you switch faces in a photo.
First, you can upload a photo, video, or GIF for face swapping. Recommended upload materials are as below:
Image: size 10MB
Video: size 100MB, 2 minutes long
GIF: size 15MB.
Then you can select the face you want to switch with the original one. Click on the Create button to create your own faces. Don't worry; the procedure is straightforward, and DeepSwap.ai will take care of all the hard work.
In the end, wait for a few seconds, and the tool will generate an outstanding deepfake video or photo using the latest AI technology for you. You will be amazed by it. It accurately generated convincing deepfakes similar to face swaps produced by less intuitive tools in a few seconds.
Conclusion
Make a face switch in a photo with the simple and fun featured web tool DeepSwap.ai. You can face swap the image in just a second with just several clicks.
Use DeepSwap.ai now and start creating cool and funny face swaps. DeepSwap is an excellent choice for those who want to make attractive deepfakes quickly and easily.