Have you ever been in a situation where you just couldn't find the right words to express your feelings? Have you ever been in a position where you weren't sure what to do? Well, facepalm GIF, is the exact emoji or meme to show your current condition!
With this post, you'll never be at a loss for an appropriate way to express yourself in any situation. Whether it's a funny meme that perfectly captures your reaction to a situation, a GIF that helps explain your feelings or an emoji that expresses your emotions. So, get ready to swap face on emoji through the internet with this guide to online facepalming.
Introduction of Facepalm
Facepalm is an expression of embarrassment or frustration. It's often used when something unexpected or unfortunate happens. For example, when you make a mistake on your test, or when you accidentally step on your cat's tail, then you can use such reaction GIF to say "Oh! No!".
The facepalm GIF is exactly the popular meme to express such feeling. So next time something embarrassing or funny happens, be sure to facepalm!
History of Facepalm
Facepalm is a facial expression that typically means "I'm embarrassed or frustrated." It's often used in online forums and chat rooms, where users can exchange face palm GIFs, emojis, videos, and memes.
Facepalm is believed to have originated in the early 2000s. At that time, users of online forums and chat rooms would post embarrassing or frustrating moments they experienced. The emoticon typically shows a person's hand with their palm up, in a gesture of disbelief or frustration.
It was first created on the popular image board 4chan in 2005. After that, it became one of the most popular emoticons on the Internet. And now you can see such reaction GIFs on Reddit, Giphy and more.
Over time, facepalm became a popular way to express feelings online. It's often used as a reaction image. For example, people might post a picture of themselves with their palms facing up in order to create a face-palm image. And facepalm GIFs and memes are often humorous in people making exaggerated facial expressions while someone else is speaking.
Read More: Get More Fun on Creating AI Cum Face GIFs
Famous Celebrity Facepalm Memes
It is the facepalm GIF of English entrepreneur, recording executive, television producer, and personality Simon Cowell, the full name Simon Phillip Cowell. His scathing critiques of candidates on programs like Pop Idol and its American counterpart, American Idol, have made him the most well-known.

Here is another example of celebrity Patrick Stewart, the most popular version of this meme shows Patrick Stewart as Jean-Luc Picard in Star Trek reacting to what's happening on the Enterprise's bridge by burying his head in his hands.
Picard facepalm GIF:
Since then, there have been numerous further occurrences, such as the delight of double facepalms and lovely collages.
Facepalm GIF in Your Own Face
Regardless of their origins, face palms are still one of the funniest things on the internet. Also, it is funny to deepfake face palm GIFs, images, videos, and memes and use them in different situations, like when you are frustrated, sad, angry, or embarrassed at someone.
For example, if you're frustrated, you can use a facepalm GIF with your own face to express how you are feeling indeed.
But how do you manage this? Is there a fast way to swap your face onto a trending facepalm GIF or meme?
If you're looking for a way to paste faces of celebrities or your friends on a well-known palm face GIF/ picture/ video/ meme, then just try Deepswap. With the easy-to-use face swap mode of this online app, you'll be ready to go.
Let's have a look at two GIFs of face palm below. The first one is the original GIF of Picard facepalm, and the second one is a Donald Trump lookalike deepfake GIF of it.
Do you want to make a funny gif like this? Let's dive into the next part:
How to Make a Deepfake Face Palm GIF/ Meme/ Emoji
Deepswap meme GIF creator makes it easy to swap face on emoji with anyone worldwide. Just upload a file with a source face, and then add target faces you want to paste to the file, Deepswap will do the rest. You can even use Deepswap to create unique and hilarious memes or emojis.
The following is a step-by-step guide to paste a face to a facepalm GIF:
Step 1. Upload a Trending GIF of Facepalm
Click "Upload file" button and select a funny facepalm GIF file with the face you want to replace. Here we take Picard facepalm GIF as an example.
Step 2. Add a New Face You Want to Replace the Original One
Now, on the top, you can see the source face that Deepswap has recognized. Click "Add face" to upload an image with the target face you want to paste to the GIF. It will display in the list. Here, we select Donald Trump's face as an example.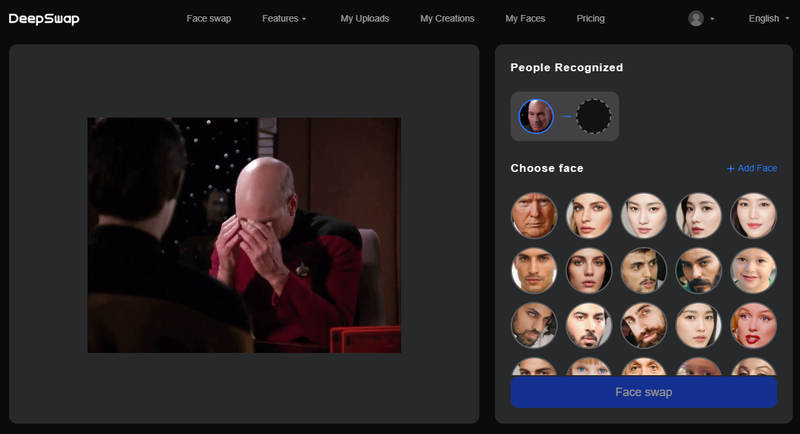 Step 3. Generate and Download Refaced Funny Facepalm
Check both the source face and the target face on the top. Then, click "Face swap", and Deepswap will analyze the files and finish the face swapping within seconds. You can preview the result after several seconds.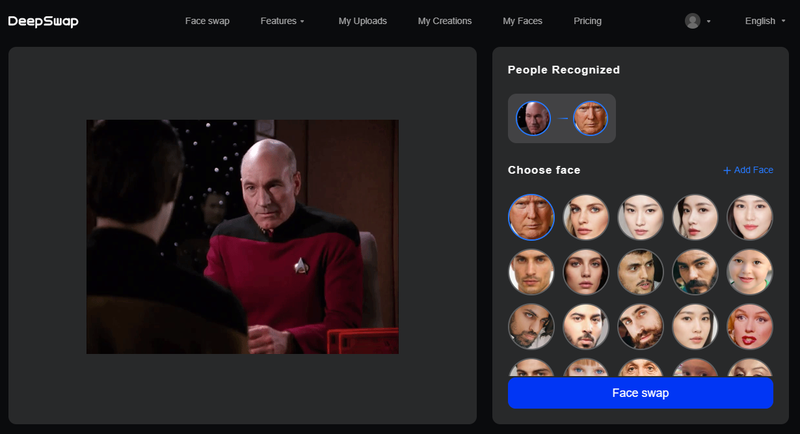 See? We have a Donald Trump lookalike GIF of face palm. Just press "Save" to download the refaced GIF.
Now, it is your turn to deepfake your face palm meme:
Final Words
In conclusion, facepalm GIF is one of the most popular ways of online communication. It's a great way to show people how you're feeling, especially if you're frustrated or mad. Also, if you send a face palm GIF with a special face of someone on it, it could be much more fun during your communication. Last, Deepswap is the best online facepalm meme generator to help you to create numerous facepalm emojis and GIFs online.
Read More: