What Is DeepSwap?
DeepSwap is an online deepfake website tool that can help you swap faces in videos, GIFs, and photos in just a few seconds. This intelligent website can help generate real face swap videos of people doing something that they have never done in their life. Moreover, it produces high-quality videos. The good news is that DeepSwap doesn't collect users' data, so people feel comfortable sharing their files because they know their privacy will be protected.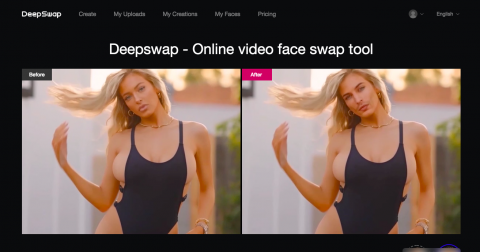 Main Features of DeepSwap
DeepSwap has multiple features, but we'll only discuss the main features here.
Reface Multiple People
Unlike other tools and websites, DeepSwap can help you reface multiple people in a video. You can use it to swap up to 6 faces in a single video.
Quick Video Creation
DeepSwap.ai can help you create videos in just three steps. The website uses powerful machine learning methods to provide high-quality deepfake videos.
Privacy Protection
Whenever you visit online businesses, they collect users' data. But here, it's not the case because DeepSwap is an online reface tool. You only need to provide your membership status and account ID. All the uploaded files will be saved in your personal cloud, so there is no risk of a data breach.
Pros and Cons of DeepSwap
Let's discuss the pros first.
Pros
It can help you reface GIFs, videos, and photos in a few seconds with AI-powered deepfake face swapping.
The video produced will not have any watermark, so feel free to paste your face on your favorite celebrity, superstar, or meme.
Share your deepfake videos on Twitter, TikTok, Instagram, Facebook, and other social media platforms without copyright issues.
Cons
People may use this tool for fraud and scams.
It only provides 20 credits per month.
Click on to check some video examples by DeepSwap.
What Is DeepFaceLive?
DeepFaceLive is a real-time face swap tool for PC streaming or video calls. It's amazing because you can train it to create any desired face. Moreover, it is much like Snap Camera, which allows users to apply face filters through their webcams.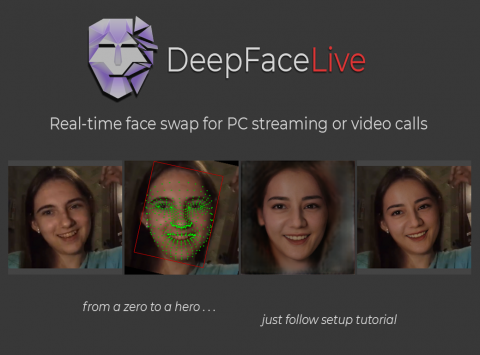 Main Features of DeepFaceLive
Open Source Software
DeepFaceLive is an open-source tool that was released on the code-hosting platform Github. It's not a stand-alone website and people can use it for free.
Real-Time Face Swap
It can help you swap your face into your desired personality on streaming and video platforms. Streamers and creators can use this tool for media content on Twitch or YouTube Live.
Face Animator
This feature is best for funny and meme material because it requires fine face-matching and tuning parameters. Using this feature, you can control a static face picture or you can also use your own face from the camera.
Pros and Cons of DeepFaceLive
Pros
Live streamers are using it to change their faces in real time.
It can help you turn a 50-year-old man into a young woman.
Free to use.
Cons
If there is no fine face matching, it will not create the best video.
People can use it for creating fake news, propaganda, and blackmailing.
Here is an example of a DeepFaceLive video.
Differences Between DeepSwap and DeepFaceLive
The purpose of both these tools is almost the same, but there are a few differences between them.
Format
DeepSwap.ai can help you create deep fake photos, videos, and GIFs in a few seconds. However, DeepFaceLive is best for video meetings and streaming.
Operation Difficulty
DeepSwap is easy to use and produces high-quality deepfakes in a few steps. In contrast, DeepFaceLive is an open-source tool and requires proper training to create the exact pairs.
You can learn about how both these tools work by clicking DeepSwap Tutorial and DeepFaceLive Tutorial.
Reviews by Users
DeepSwap:
· Mercy Higgins
This product is amazing. I love how easy it is to use and how wonderful all the results are.
· Jolli Cabaluna
I tried it once and definitely like it; I want to do more with this website.
· John Smith
Still learning the app. looks like a lot of fun; I hope to make some cool deep swaps. I will leave more feedback when I really learn it.
DeepFaceLive:
· Tony Ho Tran
DeepFaceLive is a new open-source deepfake software that allows you to transform your face in real time over video conference platforms like Zoom.
Conclusion
With each passing day, you see a new website or tool for creating deepfake videos and photos. No doubt most of them are AI-powered, but you can't trust all of them.
So, the best approach is to use a website that doesn't collect your private data and offers watermark-free content. In this case, DeepSwap.ai seems to be the best option.