Bunny girls are cute and popular characters in anime, manga, and games. They are usually female characters who wear bunny ears, tails, and sometimes costumes.
They can have different personalities, backgrounds, and abilities, depending on the story and the creator's imagination.
But how do you create your own bunny girl character? How do you generate her porn version while making it fun and interesting?
In this article, we will give you 21 useful prompts for creating the perfect sexy, AI-art bunny girl.
You can use them as they are or modify them to suit your needs. You can also combine them or add your own details to make your character more complex and original.
What is a prompt in AI art generation?
AI art generation is the process of using artificial intelligence (AI) to create images or other forms of art. It uses different methods, such as neural networks, GANs, or style transfer, that learn from data and combine features of different images.
One of the most common methods of AI art generation is using prompts. Prompts are words or sentences that describe what you want the AI to generate.
For example, if you want to create a normal bunny girl image, you can use a prompt like "a cute bunny girl, pink hair, blue eyes, a short pink skirt, a blue jacket, on the street."
The AI will then try to create an image that matches your prompt as closely as possible, like in the example below:

Prompts are very important for AI art generation because they determine the quality and style of the output.
What Is Good Prompt?
A good prompt should be clear, specific, and creative. It should also avoid ambiguity, contradictions, and irrelevant details. Here are some tips for writing prompts for bunny girls:
Use adjectives to describe the ethnicity, appearance, personality, and mood of the bunny girl. For example, you can use words like cute, sexy, shy, cheerful, etc.
Use colors like black, brown, white, etc. to describe the hair, eyes, skin, clothes, and accessories of the bunny girl.
Be detailed about the shape, size, style, and position of the bunny ears, tail, leotard, dress, shoes, breasts, ass, vagina, etc. For example, you can use words like moderate-sized, huge, fat, long, short, curly, straight, round, pointed, etc.
Describe the emotional expression and gestures of the bunny girl. Words like smiling, frowning, winking, blushing, shy, and more are perfect here.
Use scenarios to describe the background and context of the image. For example, you can use words like beach, school, cafe, bedroom, etc.
Prompts are very important to generate suitable, sexy AI bunny girls. They can help you create unique and original characters that reflect your imagination and fantasies.
However, if you are stuck or need some inspiration, you can also use some existing prompts that have been proven to work well.
We'll cover 21 useful AI bunny girl porn prompts that you can try or modify for your own purposes in the next section.
The Best 21 Prompts for Bunny Porn Girl
Creating a bunny-girl porn character is rewarding, especially when you use an AI tool like Soulgen.
Soulgen AI generator is a powerful tool that can generate stunning adult-level bunny girl images based on your prompts.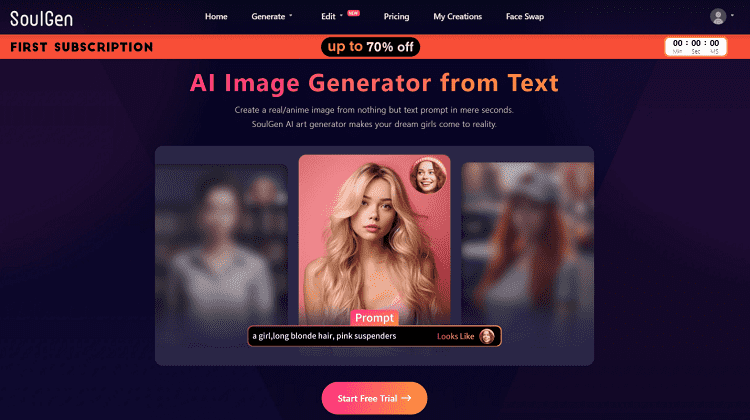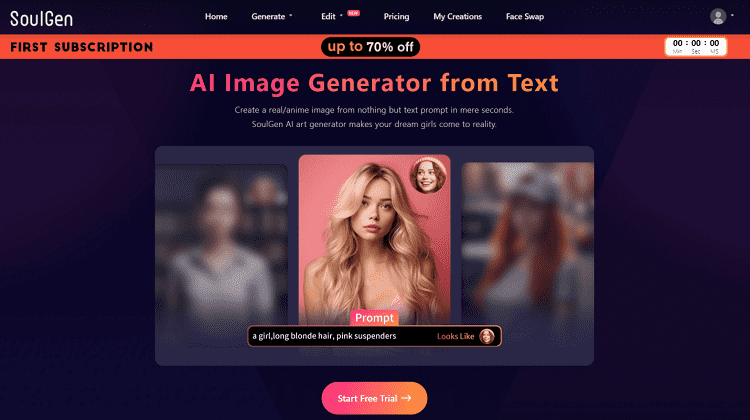 Here's how to use it to generate some of the most sensational porn images you can.
Step 1: Write a prompt
Immediately, you hop on the Soulgen website, create an account, navigate to the Generate section, and describe the sensual bunny girl you want to create in a few descriptive words.
Step 2: Select the appropriate options you want
Remember to choose whether you want your result to be that of a real or anime bunny girl you want to generate.
Step 3: Generate the image
Click the "Generate" button and wait for the AI to create your bunny girl image.
Note that if you're not satisfied with the result, you can use the "Edit" feature to make adjustments.
Now, let's dive into our list of 21 prompts for creating sexually stimulating bunny girls and some of the results from their prompts.
Read More: 9 Free AI Girl Porn Generator In 2023
11 Prompts for Bunny Anime Porn Girl
1."A shy, nude bunny girl with long pink hair and blue eyes, moderate-sized breasts, big hips, standing in a room."
Result:

2."A confident, bunny girl, white girl, short black hair, naked, big ass, holding a magical staff, by the river."
Result:

Others:
3."A cute, African bunny maid, blonde hair, green eyes, serving tea in the bedroom, naked."
4."A mysterious bunny princess, silver hair and red eyes, sitting naked on a throne, huge breasts, bunny tail."
5."A playful, seductive bunny schoolgirl with brown hair and glasses, fishnet legwear, and ass, reading a book."
6."A beautiful bunny Korean with rainbow hair, singing naked on stage, a moderate-sized breast, looking seductive at the audience."
7."A cool bunny singer, short purple hair, singing, naked, holding her breasts, large breasts, large ass, navel-piercing, in a studio."
8."A sweet bunny nurse, long white hair, thick, small breasts, half-naked, mini-skirt, huge ass, bending fishnet legwear, in the hospital."
9."Asian, bunny ears, necklace, golden hair, revealing royal attire, sitting on a throne, ."
10."Bunny girl, young, Nigerian, red hair, cleavage, large breasts, looking at the viewer, jewelry, open mouth, headphones, large ass"
11."Adorable bunny girl, blue eyes, blonde hair, white, young, huge lips, short blue hair, playing in the mountains, nude."
Remember that Soulgen allows you to edit your final result even after generating it.
Read More: Jeff the Killer Anime Girl Everything You Need to Know
10 Prompts for Generating a Real Human Bunny Porn Girl
1."Two charming bunny girls, stylish black tank top, moderate-sized breasts, blue eyes, breast touch, at a party."
Result:

2."Japanese, bunny ears, bunny tail, laying on the bed, naked, big breasts, large ass, fishnet stockings. Backview POV"
Result:

Others:
3."Bunny girl, secretary, medium breasts, big lips, pink hair, seductive, looking at viewer, ass, toes, half-naked, pink pants."
4."African American, bunny girls, transparent tank top, large breasts, ass, shy, at a picnic."
5."A sporty, real-life bunny girl, black, blue eyes, sexy athletic wear, cleavage, medium breasts, huge ass, headphones, at the gym."
6."Real-life bunny girl, pink hair, see-through sportswear, pink sportswear, on the field."
7."Black ballet dancer, bunny ears, half naked, pink bra, pink pants, large breasts, large ass, seductive look, on stage."
8."Real-life white bunny girl, blue eyes, black hair, white teeth, large breasts, hiking, in the mountains."
9."Chef, Asian, bunny girl, naked, large breasts, small vagina, cooking, in the kitchen."
10."Bunny girl, Thai, painter, painting, nude, sexy ass, in a blue background workshop."
With these prompts, you can create all kinds of unique and interesting bunny girls using Soulgen's AI girl generator.
How to Get AI-Art Bunny Girl Prompts
Getting AI-art bunny girl prompts can be as easy as a few clicks or a quick search. Here are some ways you can get AI prompts or descriptions:
1.Prompt Websites
There are many websites that provide prompts for various themes, including bunny girls. These websites often have a large collection of prompts that you can use for inspiration.
2.Preset Tags on AI Tools
Some AI tools like Soulgen have preset tags that you can use to generate specific types of images. For example, you might find tags like "bunny girl", "anime", "manga", etc.
3.Anime Art Image Platforms/Stocks
Websites like ArtStation and Pinterest have a vast collection of anime art images. You can browse these images for inspiration and even use them as prompts for your AI art generation.
4.Anime Character/Cosplay Information Platforms
Websites like Wikipedia, Fandom, and MyAnimeList provide detailed information about various anime characters and cosplays. Use this information to create detailed and accurate prompts for your bunny girl characters.
5.Prompts Shared on Forums or Social Media
Many artists and writers share their prompts on forums or social media. You can follow these people or join these communities to get new and interesting prompts regularly.
Remember, the key to a good prompt is specificity and creativity. The more specific and creative your prompt is, the better your AI-generated bunny girl image will be.
Summary
In this article, you learned how to create your own bunny girl characters using AI art generation tools.
You learned what a prompt is and also got 21 useful prompts for creating bunny anime girls and real human bunny girls. Finally, you learned how to get more prompts from various sources.
Now that you have all the knowledge and inspiration you need, why not try it yourself?
Use Soulgen's AI girl generator to create your own amazing bunny girl images. Have fun and unleash your creativity!