Introduction of Deepfake
A deep fake is a video or a photo that shows false images, usually of a person's face, that appear real and have been produced using artificial intelligence, specifically, machine learning techniques called deep learning, which uses neural network algorithms.
In 2014, Ian Goodfellow, a Ph.D. student at the University of Montreal pioneered imaging with the generative adversarial neural network (GAN) approach. Goodfellow trained two neural networks on the same image database and created new ones. He pitted the two networks against each other to identify which images were original and which were fictional, like a digital game of cat and mouse.
In 2017, an anonymous Reddit user used deep learning to swap the original actresses in adult movie scenes with the faces of famous actresses.
In 2018, the use of deepfake technology in videos with sexual content began to go viral.
The first neural network model generated new images from the database it had learned by creating images of which, for example, a cat with two tails. The second model detected fictitious images. Then the first model learned from its own mistakes and generated images of cats with a single tail.
These artificial intelligence techniques have been used by research teams to generate fictional faces from images of celebrities or to create paintings purportedly by Van Gogh.
Deepfake technology is harmless in itself, and good use of it has a tremendous positive impact on our life, companies, and society. The legitimate use of the image and voice of a third party opens up business opportunities in television, cinema, marketing, etc.
Best Deepfake Online Web
DeepSwap.ai
DeepSwap.ai is one of the best face merge websites on the internet. It is a deepfake site that can swap faces in an image, GIF, or video in a few seconds. It is a new AI face-swapping tool developed by RandD's AI expert team. DeepSwap.ai is based on a deep learning algorithm that can create high-quality deep fake videos of people doing something they have never done before.
This deepfake online web uses data models derived from their internal models. It means that DeepSwap.ai does not collect users' data. The user's shared data is protected and secure and no one except themselves has the access to the data.
If you want to create a deep fake video, you only need to take 3 simple steps. Then the tool will generate the result in a few seconds. DeepSwap.ai uses AI deep learning techniques to enhance the quality of deep fakes.
The monthly subscription charges only $9.9. With this powerful tool, you no longer need a gaming GPU or a multi-thousand-dollar budget to create a quality deepfake.
Most face merge websites can only detect 1 or 2 faces in one video while DeepSwap.ai can detect and edit up to six faces in a single video.
Most face merge websites put a watermark on your work. Sometimes uploading files don't work on an app if they are against the app's rules. But DeepSwap saves you from all kinds of these troubles. The merits of DeepSwap are as follows:
You can create deepfake videos of high quality.
You can create memes and GIFs.
Swap up to 6 faces at the same time.
Face swap your favorite person.
Share the deepfake you made on social media.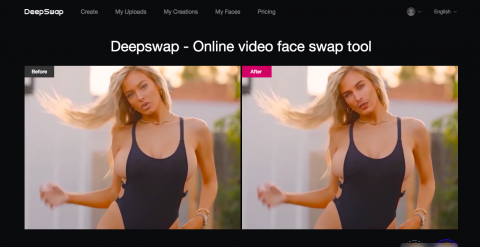 Other Equally Good Deepfake Tools
FaceMagic
FaceMagic is a fairly high-quality application developed by Insight Technology LTD, which is primarily aimed at entertainment and fun. The basic thing you can do in this application is to replace faces in various videos.
Many have seen memes on the internet where a famous person was photoshopped with someone else's face which looked very unconventional. FaceMagic application will allow you to do the same to a video. Thanks to this, you can overlay your selfie or just someone else's face on any image and change the hero of the video, surprising your friends with unique content.
Imagine what an Iron Man movie would look like if it were with your face. Now you can know for sure by using FaceMagic.
Due to the fact that the FaceMagic application has been refined and improved more than once, you now can create ever-realistic deepfake photos and videos.
Most importantly, this application has an intuitive interface, as well as an extremely easy learning process. It will allow absolutely anyone to understand the main functions of FaceMagic in minutes and start creating comical videos without any training.
But the tool is not without its downsides. The main one is that it is paid, or otherwise most tools are unavailable in the free version.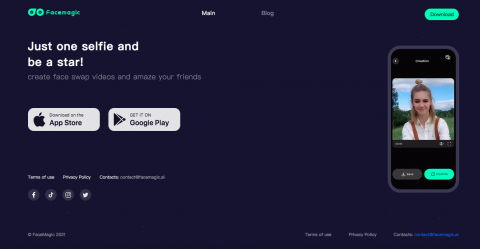 Reface
Previously, this application for Android and iOS was called Doublicat. It has received positive feedback from users worldwide and has a fairly high rating: 4.6 on Google Play and 4.9 on AppStore.
You can use its basic functionality for free, but if you want more non-standard features, for example, uploading your own GIFs, you still need a subscription. The application allows you to insert your face into videos with famous movie actors, songwriters, and show business stars.
Working with the application is very simple:
Scan your face with the front camera of your mobile device (or you can load pictures from memory).
Choose any video from the list of available ones.
Next, just wait for the result.
There are both short video clips and animated GIFs for you to choose from. Their collections are updated almost on daily basis. The most popular ones are shown on the main page of the application.
You can send your creations to friends or post them on your social network to amuse everyone. However, one should not always expect a complete replacement of the hero's face with one's own for Reface is not always stable and sometimes crashes.
FaceApp
FaceApp is an almost free application for Android smartphones with several effects and features and a minimum number of pop-up ads.
Here you can change your appearance beyond recognition. You can choose different filters for processing, or create exciting collages and share all these on social networks using just one button.
With FaceApp, you can add a smile, change your hair color or hairstyle, and even age. By clicking on the "Editor," you can apply several effects at once for a complete transformation.
FaceApp definitely has its merits and demerits. For example, it is easy to use and has minimum ads compared to its counterpart. However, it has few free features.
Conclusion
Despite the fact that most deepfakes are created for fun, deepfake technology can also be used for malicious purposes. It is in this way that a person can be forced to say what he has never said or do what he has never done. One can easily manipulate almost any digital content by creating virtual forgeries.
For example, in America, it is rightly considered that deepfakes can pose a threat to national security, and deepfake creations and distribution are prohibited in several states. Therefore, I urge you to use the tools and applications introduced in the article only for peaceful purposes, or solely for the sake of a good laugh.
If you are a beginner, I recommend you to start the deepfake journey with DeepSwap.ai for it requires no download and has a rather short processing time.